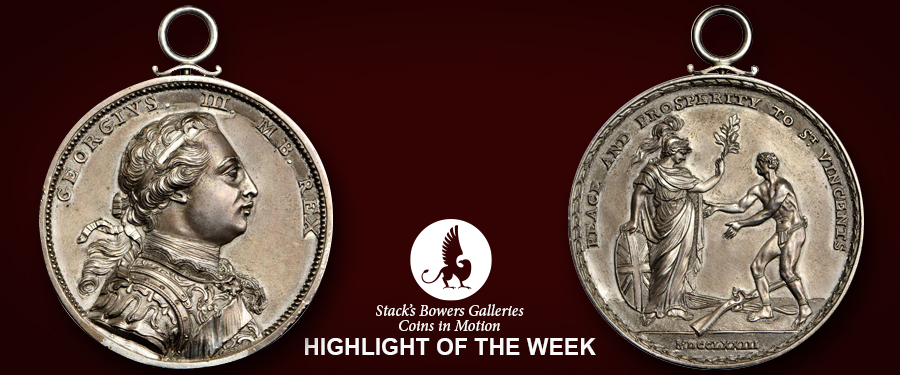 As a lover of the Betts Medal series, I am excited to show off this rare and historic 1773 Carib War Medal. Cast in Silver, and in Mint State, this looped specimen will be featured in Stack's Bowers Galleries March 2021 Las Vegas Auction as Lot 1006. This medal was presented to the troops stationed in St. Vincent in 1772 and 1773 in appreciation for their defense against an uprising of native creole Caribs.
The medal was issued by the St. Vincent Legislative Assemble, making it a West Indian medal rather than an< English medal. All of the known examples were cast and chased, meaning that they were cast from a mold and hand engraved for finishing details. All that were distributed in 1773 were wrapped in a decorative bezel. Other copper and iron types were later-date casts or were not intended for distribution. Due to the amount of detailed engraving on the bust of King George, we can speculate that this medal was given to someone of high rank, perhaps a general.
Stack's Bowers Galleries YouTube page is constantly updated with new and interesting Coins in Motion highlight videos. View our Coins in Motion page to see all of the upcoming offerings that we provide 360-degree videos for. If you have any questions, or would like to consign a similar medal to a future sale, email [email protected].