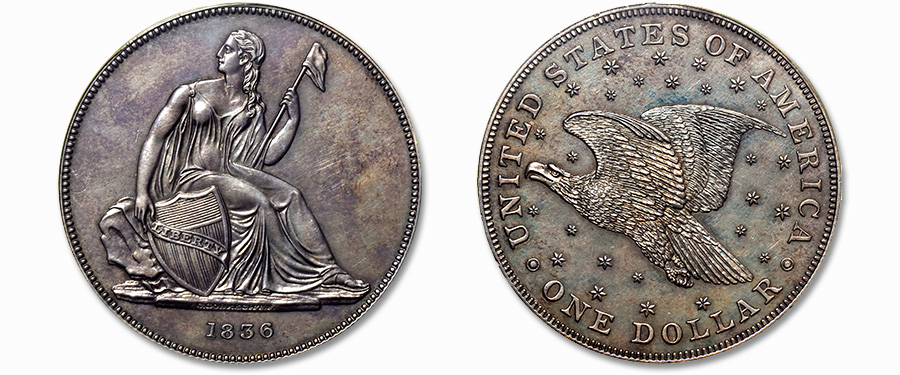 We are proud to present an example of the perennially famous Gobrecht dollar in our Spring 2022 Official Auction of the Whitman Coin & Collectibles Expo. The historic 1836 "Name on Base" dollar is the first issue of this denomination produced for circulation since those struck in 1804 from 1803-dated dies. Silver dollar production was suspended in the early 19th century after the value of the silver in each coin exceeded its face value. While proposals to resurrect this denomination started as early as 1831, it was not until 1835 that a serious attempt was made. The result is a coin widely considered one of the classics of American numismatics with its beautiful representation of Liberty seated on the obverse and the majestic soaring eagle on the reverse. The Mint used only a single pair of dies to strike 1,000 examples of the new dollar in December 1836, delivered in two batches (400 pieces for distribution to the public and 600 for distribution into commerce through local Philadelphia banks).
We are pleased to offer an extremely desirable 1836 Name on Base dollar that is fully struck, displaying intricate detail down to the most minor features. The devices reveal the same degree of semi-reflectivity to their finish as seen in the fields, with no sizable marks and faint hair-lining well concealed. This piece also displays a somewhat glossy texture beneath its smoky-gray re-toning with iridescent undertones of gold and powder blue, evident upon closer inspection. CAC's approval of this coin demonstrates the premium quality for the grade, making this beauty an extraordinary choice example which is enclosed in an old green label holder. The old style PCGS insert wrongly identifies this coin as a Restrike, but with our Die Alignment IV attribution and writings from John Dannreuther, Craig Sholley, and Saul Teichman, we can confirm it as an Original. Lastly, this coin is a Die State F example, making it one of the last pieces to be struck.
As the most frequently encountered Gobrecht dollar, the 1836 Name on Base is very popular for type purposes. Examples are certified as Proofs, but most show considerable wear and marks from time in commerce. A favorite for generations, Gobrecht silver dollars remain in high demand. This handsome specimen represents a significant find for advanced type collectors, silver dollar enthusiasts and any collector with an interest in this challenging series.
The entire Spring 2022 Auction will be available for viewing and bidding at StacksBowers.com in the next week. For more information about consigning to one of our auctions call 800-458-4646 or email [email protected].