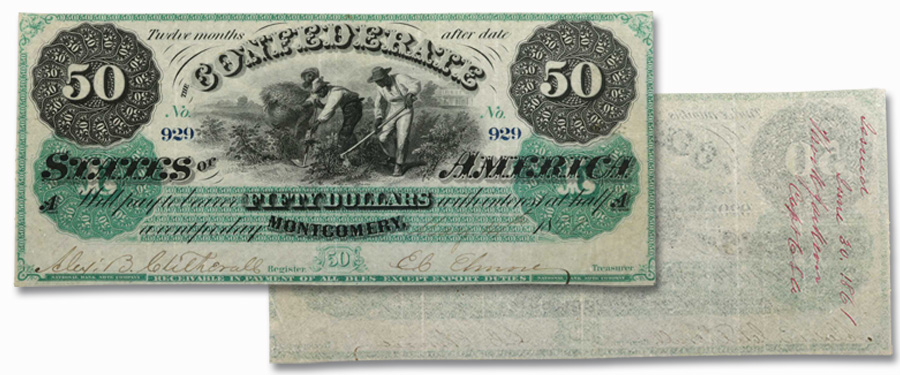 Our Spring 2022 U.S. Currency Auction is shaping up to be quite impressive, including several interesting notes in our Confederate Currency section. Featured this week is a T-4 1861 $50 note in PMG Very Fine 30.
The green border and security prints are bold while the dual "50" die counters display dark black ink. The federal blue serial numbers remain particularly bold. The number of times "50" can be counted on the design is staggering, comprising the border design, die counters, protectors, and security printing. Seen at center is a vignette of slaves hoeing in a cotton field (this design was used previously on Southern obsolete notes, and later the T-41 $100). National Bank Note Company (New York) produced 1,606 of these notes, with about 150+ known to exist today. The hand signed signatures of Register Clitherall and Treasurer Elmore remain legible and are neatly penned. The note is very appealing for the assigned grade.
Interestingly, this note was endorsed by the same signer who endorsed the T-2 we are offering in our Spring auction and which was featured in last week's newsletter. This $50 note was "Issued June 30, 1861 Mark Jackson Capt" (some of the words after "Capt" are illegible). It will make an excellent addition for someone starting a Confederate paper collection or would pair nicely with the T-2 and T-3 we will also be offering in our April sale.
We are currently taking consignments for our monthly auctions. To consign your U.S. paper money and world paper money to a future sale, contact a consignment specialist at 800-458-4646 or visit StacksBowers.com. For more information on viewing lots or for assistance in registering to bid, email your inquiry to: [email protected] .