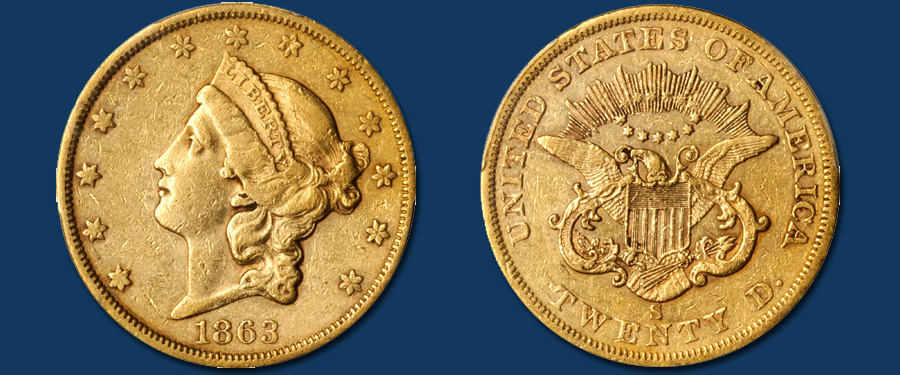 Eagerly sought by both Liberty Head gold specialists and Civil War enthusiasts, the 1863-S double eagle presents a significant challenge to collectors. Just 966,570 pieces were struck at the San Francisco Mint and most saw heavy circulation throughout the western United States. At the time, coinage had virtually disappeared from day-to-day transactions in the Midwest and the East due to the uncertainty surrounding the Civil War, which placed increased pressure on the gold coinage in the West. Many 1863-S double eagles were likely exported overseas in later years, further diminishing the population.
Q. David Bowers estimated a surviving population of 3,500 to 5,000 coins in his 2004 Guide Book of Double Eagles, while PCGS CoinFacts more precisely estimates 3,145 survivors.
The present example is quite attractive and is sure to attract considerable interest as lot 5860 of our May 2019 Baltimore Auction. It features bright khaki-gold surfaces with areas of darker patina remaining in the protected areas. It is well struck and faintly lustrous, with just scattered contact marks.
We most recently featured an Extremely Fine example in our March 2018 Collectors Choice Online Auction, where an EF-45 (PCGS) piece sold for $1,920 in lot 91575. The very finest piece we have handled is the incredible MS-63 (PCGS) piece from the M.B. Tucker Collection that earned $26,450 in lot 9866 of our November 2011 Baltimore Auction.
The present Civil War rarity is offered in lot 5860 of our May 2019 Official Auction of the Whitman Coin & Collectibles Summer Expo. The auction is now available for viewing and bidding on our website www.stacksbowers.com, or you may contact our offices to secure a printed catalog. To speak with a numismatic representative, please call 800-458-4646 or email [email protected] Also, download our mobile app to view and participate in our auctions via your Android or Apple device.