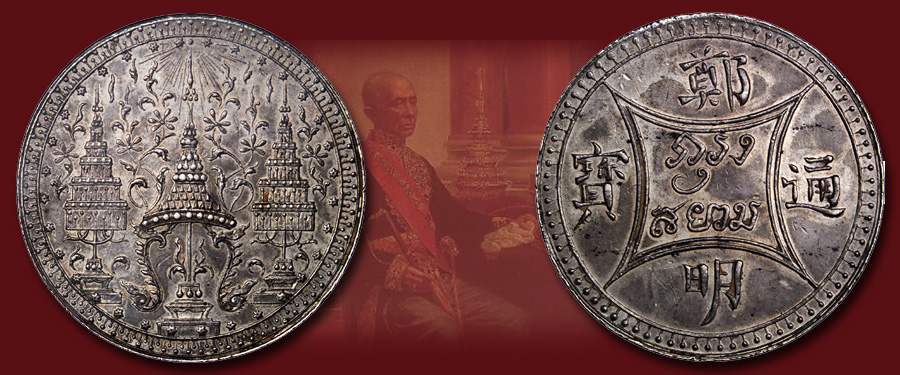 For this week's highlight coin from the Stack's Bowers and Ponterio August 2014 Hong Kong Showcase Auction we have an exciting piece from Thailand, known as the Kingdom of Siam when this piece was minted. Thailand is the only Southeast Asian nation that can claim to have never been colonized by a Western power, a feat attributable to capable and reform-minded monarchs, the Chakri Dynasty. King Mongkut is one of the most revered Thai sovereigns, and is also well known outside Thailand as the titular ruler in the classic play and film, The King and I, based on Anna Leonowens' years in Mongkut's court. Mongkut ascended the monarchy at the age of 47, after spending most of his adult life as a Buddhist monk. When Mongkut's father Rama II died, Mongkut (a legitimate son from the king and queen) was passed up in favor of an older brother (King Rama III) from a concubine, which was unusual. However, after 27 years, Rama III died before naming a successor and Mongkut (as the previous king's brother) was proclaimed king of Siam. Once in power he faced immense pressure from British and French colonial powers. The most important influence came in the form of the Bowring Treaty, which opened up Siam to free trade. The treaty's results proved to be a double edged sword; it greatly reduced the tax revenue of the government but allowed for a dramatic improvement in the agricultural infrastructure.
King Mongkut also achieved great success in modernizing Siam in technology, science, and culture. Some scholars claim that Mongkut's modernization successes were a strong case against the imperialist's claim that Siam was uncivilized and created a buffer protecting Siam from colonization attempts. King Mongkut is also credited with initiating coinage reform. He proposed the shift from "Pot Duang" or bullet money, to round coins bearing arms and inscriptions. Mongkut did keep the denomination system of Baht in place, and on most coins an image of an Asian elephant can be found. One final story concerning King Mongkut is his proposed gift of a herd of war elephants to the U.S. president during the months before the outbreak of the U.S. Civil War in 1861. King Mongkut offered to send domesticated elephants to President Buchanan, but the letter arrived after Lincoln had assumed the presidency. Lincoln respectfully refused the offer, and made a joke that the elephants could be used to "stamp out the rebellion." King Mongkut later clarified that he proposed they be used as transportation and beasts of burden, not war machines. But the image of the blue coated Union Army charging through the Confederate lines atop massive war elephants is an impressive visual.
The intricate design of this remarkable coin deserves a detailed description. This piece was produced to commemorate the 60th birthday of Rama IV, or King Mongkut as he was known in foreign countries. The obverse of this presentation piece contains a similar design to the regular coinage of the time. In the center of the coin is the featured symbol for King Mongkut, an ornate crown (the symbol is named Mongkut as well). Flanking the crown are two elaborate umbrellas, also royal symbols in Thailand. An intricate pattern of leaves and branches surround the three predominant symbols, and at the apex of the crown rays of light are shining down. The first border consists of six-sided stars, followed by a second border. Featuring a fascinating dual language legend, the reverse is what truly sets this piece apart. A double lined square with walls that bow inwards to the center of the coin divides the Siamese and Chinese legends. The center inscription reads: "Kingdom of Siam" while the outer Chinese symbols state: "Cheng Ming Tung Pao." This Chinese inscription roughly translates to "Negotiable Currency of Cheng Ming" with "Cheng Ming" presumably referring to the Kingdom of Siam. The dual Siamese / Chinese inscriptions were used because these pieces were presented to important Thai and Chinese officials. Kann offers an additional possibility for the Chinese inscription, stating that at that time Siam still admitted Chinese suzerainty over its country, while Siam retained its domestic autonomy. Whatever the reason, the reverse of this presentation piece makes this an incredible sought after item. This piece displays nice slate toning with only the slightest evidence of handling on the high points.
Look for this and other Asian numismatic rarities in our upcoming August 2014 Hong Kong Showcase Auction. Preview this impressive coin along with the rest of our auction this July and August at the Stack's Bowers and Ponterio office located in Irvine, California. For details please refer to the Events Calendar link at www.StacksBowers.com. To schedule an appointment, please call 800.458.4646. While our Stack's Bowers and Ponterio August 2014 Hong Kong Showcase Auction is closed for further consignments, we are currently taking consignments of Asian, world and ancient coins for our April 2015 Hong Kong, November 2014  Baltimore and January 2015 New York International auctions. If you are interested in consigning your coins and paper currency (whether a whole collection or a single rarity) be sure to contact one of our consignment directors.