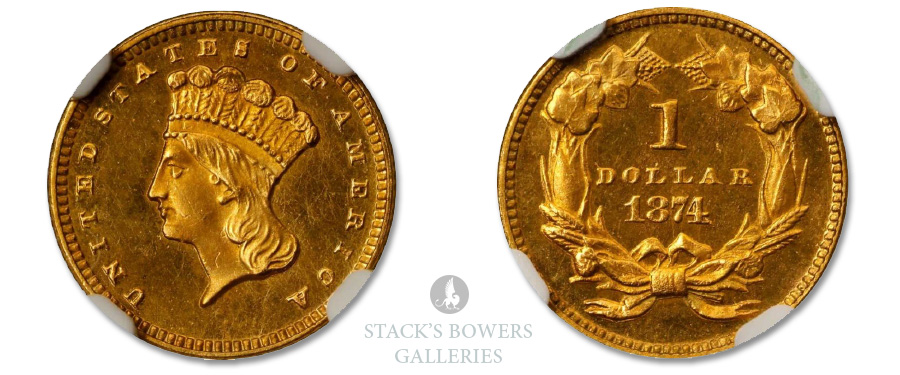 In our upcoming August auction, we will be featuring a delightful premium Gem 1874 gold dollar, one of the two finest certified survivors of an ultra-rare and underrated issue in the series. Both sides are boldly cameo in finish with frosty motifs set against impressive reflectivity in the fields. The gold surfaces are deep reddish honey, and there is a dusting of pale silvery iridescence across the entire coin. Fully struck, as befits the method of manufacture, the absence of most of the word LIBERTY on the headband is a function of how the Mint prepared this particular obverse die. There are no post-production blemishes to report; tiny strike throughs (as made) behind Liberty's mouth and at the rear of the neck are mentioned solely as identifying features. This exquisite specimen would serve as a centerpiece in even the finest gold cabinet.
The reported mintage for the Proof 1874 gold dollar is just 20 pieces, all of which were delivered on February 14. Remarkably, three die pairings have been confirmed among the dozen estimated survivors. Such a significant rarity will draw a great deal of attention, as Gem cameo examples of this rare date seldom come up in auction, the last being in 2006. This is an opportunity that may not come about again this decade so be prepared to bid strongly.
For more information about the Stack's Bowers Galleries August 2022 auction visit StacksBowers.com To consign your coins or paper money to one of our Showcase auctions or to our Collectors Choice Online auctions call 800-458-4646 or email [email protected].