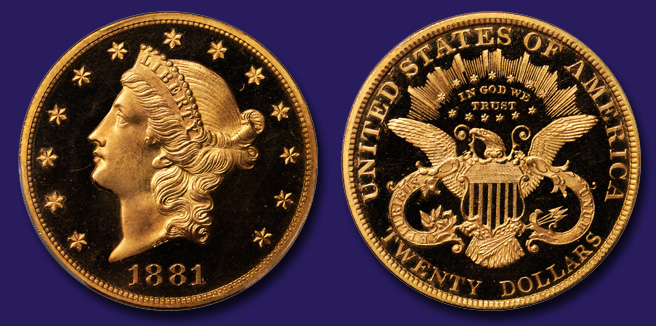 As always, our upcoming Baltimore sale in November is the gathering place for many important and rare numismatic items. These include a gorgeous Gem Deep Cameo Proof 1881 double eagle, a date that experienced a coinage of just 61 pieces intended for sale to the small handful of high-rollers of the era who could afford to buy such large denomination coins from the Mint. Whether all 61 pieces were sold is unknown, but the small number of pieces known today – perhaps 20 or even fewer – suggests there was no sell-out of Proof double eagles in 1881.
The 1881 double eagle in our upcoming official auction of the Whitman Coins and Collectibles Baltimore Expo is an unusually beautiful orange-gold specimen with deeply mirrored "orange peel" surfaces and frosty design motifs that offer an unrestricted cameo contrast. A search of the PCGS Population Report shows a combined total of 14 grading events for the date in Proof and Deep Cameo Proof, and that figure could very well include a number of resubmissions. The offered Gem is tied for finest certified of the date within any Proof category. In any event, this 1881 Proof double eagle is absolutely one of the finest known examples of this rare Proof issue, and CAC agrees wholeheartedly with that assessment. It compares most favorably to the Gem Proof 1881 double eagle offered as lot 916 in our sale of the Harry W. Bass, Jr. Collection in November 2000.
Coins such as this 1881 double eagle are the things of which numismatic dreams are made. With its Proof mintage of just 61 pieces and its circulation strike mintage of only 2,200 coins, this beautiful Gem Deep Cameo Proof 1881 double eagle will entice any specialist who appreciates rare double eagles or rare U.S. coins as a whole. Remember, when great collections are sold, Stack's Bowers sells them! It's so much more than just a slogan thrown together to impress — around here, it's a fact of life. If you have coins to sell, why not contact us immediately, as it could prove to be one of the most important numismatic decisions you have ever made.