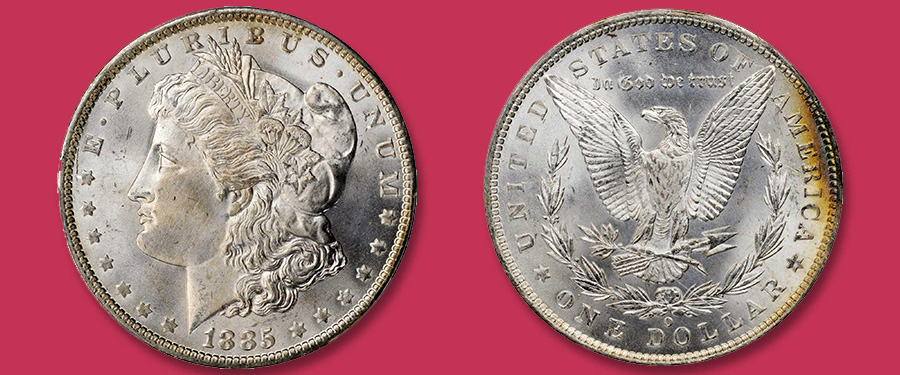 ​With a mintage of 9.18 million coins, the 1885-O Morgan silver dollar is one of the most available dates of the series and was widely represented in government releases from the 1930s through the early to mid 1960s. Writing in the 1993 reference Silver Dollars & Trade Dollars of the United States: A Complete Encyclopedia, Volume Two, Q. David Bowers states that " the 1883-O, 1884-O, and 1885-O constitute the bulk of approximately 10 million coins released from a long-sealed vault in the Philadelphia Mint, beginning in October 1962 and continuing through much of 1963."
Examples can be readily found in grades up through MS-67. However, above that level, the 1885-O becomes incredibly scarce and represents a challenge even to advanced Morgan dollar specialists. We are thrilled to offer one of the very finest known 1885-O Morgan dollars in lot 92281 of our April Collectors Choice Online Auction, which will close on Wednesday, April 15. Graded MS-68 (PCGS), this specimen is one of just five graded by PCGS at that level. 
The surfaces are brilliant and pearlescent, accented by faint peach patina across the obverse and a deeper swath of colorful toning at the right reverse rim. Frosty luster blankets the design elements, contrasting subtly with the satiny and reflective fields. The strike is incredibly sharp and the coin appears essentially untouched beneath a glass, fully justifying the MS-68 grade from PCGS.
This MS-68 (PCGS) 1885-O Morgan dollar is featured in lot 92281 our April Collectors Choice Online Auction, which is currently available for bidding on our website www.StacksBowers.com. We are accepting consignments for future Collectors Choice Online Auctions, so contact us today via email at [email protected]  or by telephone at 800-566-2580 (East Coast) or 800-458-4646 (West Coast) to speak with a numismatic expert. Also, download our mobile app to view and participate in our auctions via your Android or Apple device.