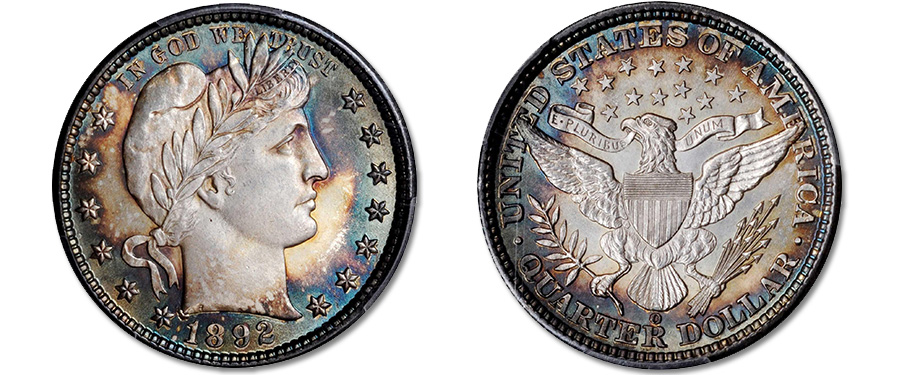 ​As the first New Orleans Mint Barber quarter, the 1892-O has long been popular for those building mintmarked type sets. However, survivors are far scarcer than the Philadelphia Mint issue of the same year, and in the highest Mint State grades the 1892-O is a formidable condition rarity.
We are proud to be offering one of these high-end rarities in our June 2021 Costa Mesa Auction. It is graded MS-66 (PCGS) CAC, and just a dozen coins rank higher at PCGS while only 3 are listed higher at CAC. The peripheries are ringed in halos of intense cobalt blue and light pink patina, while the centers are nearly brilliant. Both the full strike and smooth surfaces are rare in a New Orleans Mint issue of this design type. This coin also displays an unlisted RPM variety with the O mintmark lightly repunched along its right side. Interestingly, we are aware of several other high grade 1892-O quarters struck from these dies that have been certified by PCGS, including the Pogue specimen in MS-67. It appears that a mini-hoard from these dies existed at one time, the coins handled with the utmost care by their previous owners.
This piece is being offered in Part II of the Collection of Silas Stanley Roberts (1888-1966), which was assembled chiefly in the first half of the 20th century and now comes to market for the first time. Part I of the Silas Stanley Roberts Collection was presented to considerable excitement in our March sale, while Part II in our June sale includes such amazing pieces as the present Gem 1892-O quarter, a 1917-S Obverse Mintmark Walking Liberty half dollar graded PCGS MS-66 and a near Gem 1921-D Walking Liberty half dollar graded PCGS MS-64+ and verified by CAC.
This magnificent MS-66 (PCGS) CAC quarter can be found in lot 2022 of our June 2021 Showcase Auction, hosted at the state-of-the-art auction gallery in our new Costa Mesa, California headquarters. The June auction is now available for viewing and bidding on our website www.StacksBowers.com. For questions about the auction or to order a copy of the printed catalog, please contact our Auction Services team by telephone at 800-566-2580 or by email at [email protected].