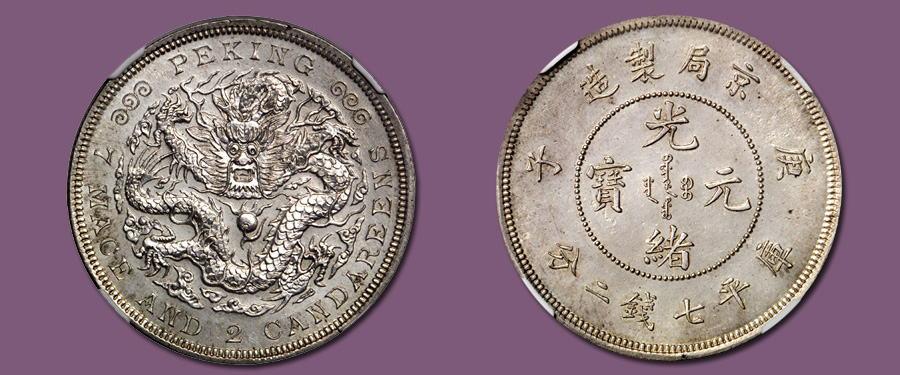 The Stack's Bowers and Ponterio world coin team is very proud of the large range of collectible material and outstanding rarities to be offered in our April Hong Kong Showcase Auction. The Peking series of coinage is easily one of, if not the rarest of all Imperial era machine struck coin series and, although restrikes exist, they too are quite rare. Initiated in 1900 as a central mint series they were intended to circulate alongside the provincial dragon coinage that had been the normal currency throughout most of China for roughly the preceding 12 years. The dies were prepared in England and sent to the Peking mint, where a small number of five denomination sets were struck with plain edges and incised serial numbers on the edge. After this initial striking, references diverge slightly on the fate of the Peking series, but all seem to agree on the following series of events. During the chaos of the Boxer Rebellion (1900-01) the Peking mint was destroyed after only about two years of operation, and a set of dies (accounts differ, some say it was a full set of five dies some say it was only four dies) was "saved" by a worker there. From here the dies were sold, traded and passed through a few sets of hands before landing with a coin dealer in Shanghai who began striking small quantities of restrike sets, by most accounts up through the about the middle of the Republic era. The restrikes are identified by their reeded edges and pitting on the surface from rusty areas on the dies, as we can see in various spots on this piece.
The obverse design features an impressive flying dragon design, amidst wisps of clouds. The style and form of the dragon is very similar to other provincial and Imperial dragon designs, yet this series has a distinct dragon's face surrounded by ornate frills. This remarkable artistry is flanked by "PEKING" above and "7 MACE AND 2 CANDAREENS" below. The reverse provides an exclusively Chinese and Manchu legend. Within a beaded circle four Chinese symbols denote: "Valuable Coin (of the) Kuang Hsu (regime)." Four Manchu characters appear between the four Chinese characters and convey the same meaning as the central inscription. A beaded border separates these inner inscriptions from the outer legends. The upper-most outer legend of four characters states: "Made in the Peking Mint." The two characters at nine and three o'clock state the year (1900). The lower six characters state the denomination, and mirror the obverse English legend. This handsome and dynamic design is quite different from other dragon coinage of the time and is similar to the later "dragon in clouds" design of 1911. This example was struck on nice lustrous metal with only a hint of golden toning at the rim. Used as a plate example in "Top Chinese Coins" by Chou, Guth and Smith. Spirited bidding is expected when this exceptional and seldom offered type crosses the block. It is one of very few examples certified with none having been graded by PCGS; unfortunately the NGC population is unavailable.
Look for this and other Asian and world numismatic rarities in our upcoming April Hong Kong Showcase Auction. Preview this impressive coin along with the rest of our auction this March at the Stack's Bowers and Ponterio office located in Irvine, California. For details please refer to the Events Calendar link at www.StacksBowers.com. To schedule an appointment, please call 800.458.4646. While our Stack's Bowers Galleries April Hong Kong Showcase Auction is no longer open for consignments, we are currently taking consignments of ancient and world coins for our August 2015 ANA World's Fair of Money Showcase Auction and Asian coins and currency for our August 2015 Hong Kong Showcase Auction. Time is running short, so if you are interested in consigning your coins and paper currency (whether a whole collection or a single rarity) be sure to contact one of our consignment directors.