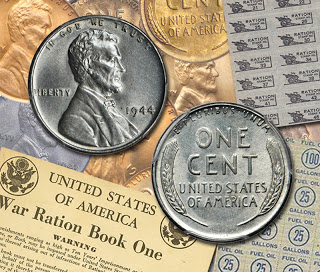 1944. The entire world was at war, or so it seemed. The Allies invaded France in June of the year, gaining a foothold, finally, on Europe proper. U.S. Marines and Navy forces were island-hopping in the South Pacific from one bloody engagement to another. Back in the United States, sugar, gasoline, meat, and countless other items were being rationed to aid the war effort. In the United States mints, however, it was still business as usual, churning out the coins that kept the fragile wartime economy chugging along.
Perhaps the most famous of all Mint error coins is the 1943 bronze Lincoln cent, or the "1943 copper penny" as it has been known to millions of non-collectors over the years. In 1943, copper was one of the most significant metals to the war effort, and as a result the Treasury decided to change the alloy of the cent from bronze, 95% copper and 5% tin and zinc, to steel planchets with a bright zinc plating. Struck no doubt by accident from leftover bronze planchets of 1942, a score and more bronze planchets managed to find their way into the coinage presses in 1943, and at all three active mints, in the year that steel cents with zinc plating were introduced to the American public. Soon thereafter, word of the 1943 bronze cent had the American public checking their pocket change for that elusive "penny."
It seems only logical in retrospect that the opposite scenario would occur in 1944, and it did! In 1944 the mints began striking Lincoln cents on planchets made from recovered copper shell casings, the mix for the new "shellcase" cents now 95% copper and 5% zinc, a metallic mix that stayed in use through 1946. As with the 1943 bronze cent rarities, some leftover steel cent planchets found their way into the production runs of 1944 bronze cents, again, at all three mints, and another rarity was born.
First discovered in 1945 by collector Richard Fenton, the 1944 steel cent is as rare as the 1943 bronze cent, though its fame is far less than that of its 1943-dated rival. Fewer than 30 Philadelphia Mint 1944 steel cents are thought to exist, with fewer than 10 pieces from the Denver Mint, and with perhaps just two examples of the 1944-S steel cent known.
The 1944 steel cent we areoffering in our January 2013 Americana sale in New York City is tied for finest known at PCGS, with just one other MS-64 example listed on that firm's roster. Our cataloger described it as: "A bright and lustrous steel-gray specimen with exceptional eye appeal."
We expect that this piece will awaken the Lincoln cent collector in many of our bidders, and we wouldn't be surprised to see a record price when the bidding ends. What is offered here is much more than just an error Lincoln "penny," but a truly rare American coin that is forever linked with the most famous of all American error coins, the 1943 bronze cent. The 1944 steel cent is definitely entitled to a status equal to that of its bronze rival of the previous year, both numismatically and historically.