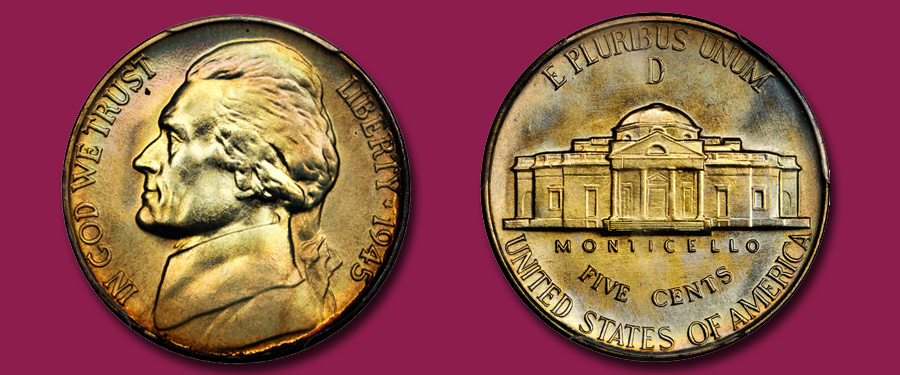 Often overlooked by collectors, the Jefferson nickel is a series that should be popular, and with the commemorative issues of 2003-2006, there seems to have been some more appreciation from collectors. Indeed, the first Whitman Folder I completed as a child was a Jefferson nickel set, 1938-1993, all received in circulation; this is the only series that can still be assembled completely (with patience) from pocket change. However, there are major condition scarcities and rarities in this series, creating quite a challenge for the advanced registry set connoisseur.
During the Second World War, copper and nickel were deemed essential materials for the war effort, and from October 1942 to December 1945, the composition for the five-cent coin was changed from 75% copper, 25% nickel to 35% silver, 56% copper, 9% manganese, creating a 15 coin "short set". Like most Jefferson nickels, most dates are readily available in all grades from heavily circulated to Gem; in the lofty grade of MS-68 with full step definition, PCGS has only awarded the MS-68 Full Step grade eight times, across all 15 issues. We are proud to offer the first and only 1945-D war time nickel to be assigned this extremely high grade from PCGS. This truly great coin will appeal not only to the Jefferson nickel specialist, but since it is from a distinct type, a type set collector who demands only the very finest will want to consider this piece for his or her set.
Aside from the grade, this coin is visually impressive as well: well struck with rich, natural patina on both sides. Indeed we only point out a trio of small, natural carbon spots that appear on the obverse. Jeff Ambio, in his description adds: "This delectable Superb Gem exhibits virtually flawless surfaces. The strike is razor sharp throughout, and there is not even a single detracting abrasion. Also beautifully toned, both sides are layered in soft pastel iridescence of sandy-gold, pale pink and ice blue. Simply gorgeous!"
Destined for the finest Jefferson nickel registry set, this coin will turn many heads when it is called to the auction block. If you are building a world-class collection of Jefferson nickels, we suggest you view this coin in person, then carefully formulate your bid. Good luck!