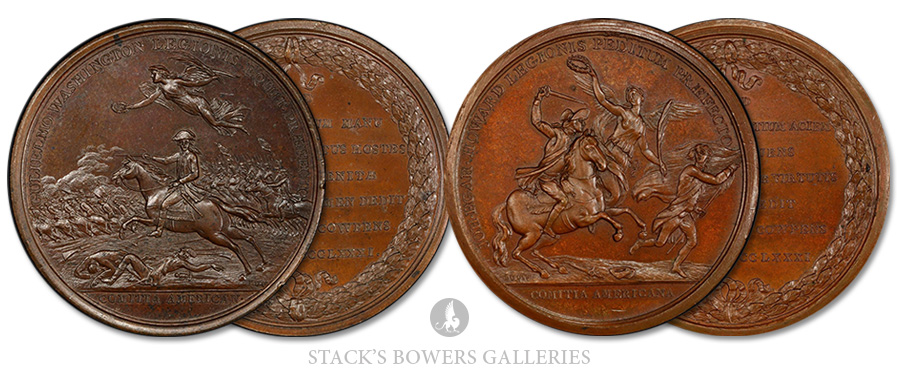 ?We are pleased to present a pair of original Comitia Americana medals in our June auction. Both are beautiful and rare, and bidders may want to consider purchasing both as they complement each other and form an impressive set. The first is a Lieutenant Colonel William Washington, Battle of the Cowpens Medal. It is an exceptional early die state specimen, with superb eye appeal and more deeply reflective fields than usually seen. Dark chocolate-brown surfaces are enlivened by gold, blue and violet highlights, and support perfectly struck and well detailed devices. An ancient India ink 17 is seen, in shadow, in the upper left obverse field, and a similar 20 retains its ink in the upper left reverse. The rims are barely filed, just at the outermost portion of the obverse rim, and similarly subtle and deft along the right side of the reverse. This handsome and desirable piece is among the earliest state copper strikings we have handled. A similar MS-64 (PCGS) example brought $5,760 in our November 2021 sale of the E. Pluribus Unum Collection.
The second of this pair is a lovely John Eager Howard at Cowpens medal, with many of the design elements on both sides richly toned in dominant autumn brown with warmer steel-olive outlines. The detail is razor sharp to full throughout the design, and this piece is nicely double struck, with evidence best appreciated with the aid of a loupe while examining the central motifs on the obverse. There is a bold witness line on the edge, and typical Paris Mint rim filing evident on both sides. The fields are faintly prooflike and display lovely powder blue and pale rose undertones. This is the only metallic composition in which the John Eager Howard at Cowpens is considered available. Most bronze examples,  are post-1830 Paris Mint restrikes from original dies distinguished by Paris Mint edge markings. This original striking with a plain edge is decidedly scarce; the Adams-Bentley survey (2007) reports 26 examples of this type. A similar original striking sold for $5,040 in our November 2019 John W. Adams sale. We anticipate very strong interest in this Specimen-65 that is the only example graded by PCGS in this category.
For more information about the Stack's Bowers Galleries June 2022 auction visit StacksBowers.com. To consign your coins or paper money to one of our Showcase auctions or to our Collectors Choice Online auctions call 800-458-4646 or email [email protected].