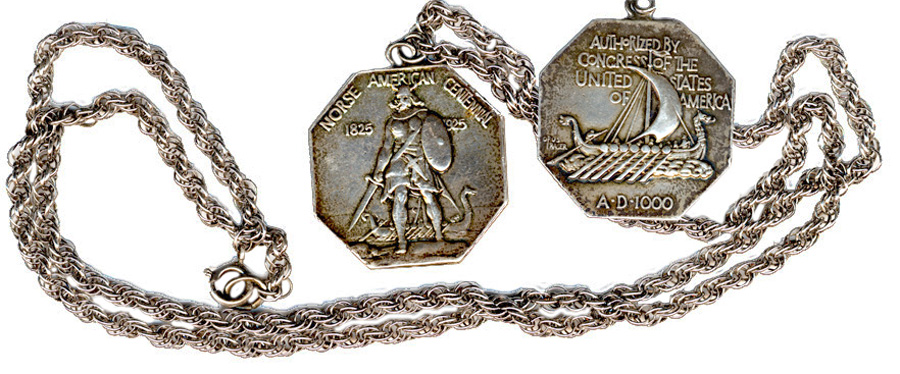 The famous 1925 Norse-American medals are the work of James Earle Fraser of Buffalo nickel fame. As a youngster I remember the first time I ever looked into a dealer's case and saw a 1925 Norse-American medal. It was large, octagonal, and had a really neat and appealing Viking design. Back in the 1960s the medals were not overly expensive, but another coin, probably a Liberty Seated dime, must have caught my attention that day and the Norse-American medal was forgotten.
Over the years I came in contact with many of the pieces, but I never seemed to connect, as coins always came first. Several years ago when silver was lingering at about $6 to $8 an ounce, I came across the Norse-American medal featured here in a New York State coin shop. When I asked the price, the dealer threw it on his scale and quoted me melt value. I don't remember the cost, but it weighs 35 grams and I was charged accordingly.
The chain is stamped "sterling" and makes a great complement to the actual medal. Deep silver-gray with golden highlights, the thick planchet piece I own — they come on thin planchets as well — grades EF or so due to its use as jewelry. It sits on my royal purple velvet desktop tray at work along with numerous other exonumia items, and every now and then I flip the medal so I can enjoy each of the Viking designs — the warrior on one side and the longboat on the other. And, as far as I'm concerned, I don't need to own another 1925 Norse-American medal; my "desktop" model does the job just fine!