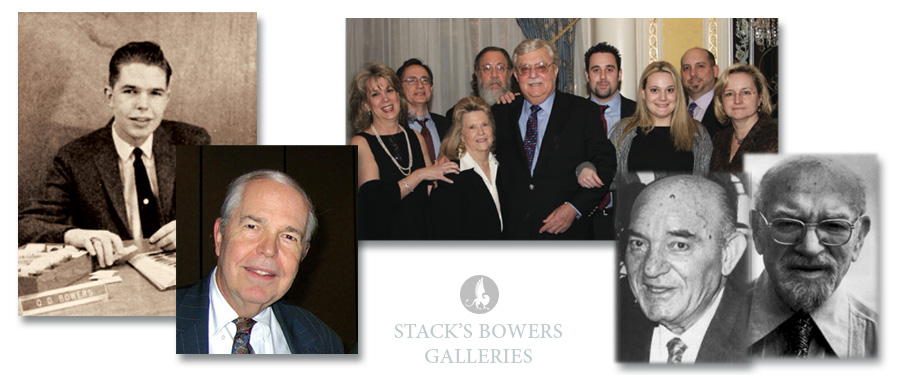 For decades, Q. David Bowers and the Stack family have been beacons of leadership to the collecting community for their remarkable expertise and numerous contributions to the betterment of the hobby. It is with pleasure we share the announcement that they are both being awarded the American Numismatic Association's Philanthropy Award for 2022.
During the 1950s—when Dave was just a teenager—his long term interest in coins spurred him to become a dealer and he placed advertisements in a local paper. His business grew rapidly, and the rest is history. In an interview with Ed Reiter of COINage Magazine, Bowers says, "I've always considered myself to be very blessed, because at the age of 14, I picked my life's work. I've been in coins ever since, and I still enjoy them just as much as I ever did. I've never, ever tired of what I do."
Q. David Bowers reputation in the hobby is legendary, and he is widely recognized as one of the most scholarly and prolific numismatic writers of the past half century. Author of more than 40 books and hundreds of auction catalogs, columns, articles and blogs, he has received more "Book of the Year Awards" and "Best Columnist" honors from the Numismatic Literary Guild (NLG) than any other writer. In 1989 he received the NLG's highest honor, the Clemy award.
Bowers has assisted the ANA financially, professionally and culturally for many years. His most valuable work on behalf of the ANA is the definitive 1,744-page American Numismatic Association Centennial History, which involved hundreds of hours of research. Through the years, he has been a Summer Seminar instructor, spoken at ANA conventions, participated in educational forums and written a monthly column and many feature articles for The Numismatist.
Elected to the ANA's Board of Governors in 1979, he served for six years, including a term as president from 1983-85. He also served as president of the Professional Numismatists Guild. His untiring efforts to promote greater understanding of our nation's coinage and its place in American history, society, and culture have earned him many ANA awards. He was named a Century Club recipient in 1980 and a Medal of Merit winner in 1987. In 1991 he was presented the Association's highest honor, the Farran Zerbe Memorial Award for Distinguished Service. Three years later, he was inducted into the Numismatic Hall of Fame. He became the first recipient of the Numismatist of the Year award in 1995 and was honored with a Presidential Award in 1997, an Exemplary Service Award in 2003, and a Lifetime Achievement Award in 2005.
Brothers Joseph B. and Morton Stack established Stack's in New York City in 1933 and conducted its first public sale two years later. They specialized in everything numismatic—coins, tokens, medals, and paper money—and their services were in high demand. Many sought their expertise, including universities, royalty, government institutions, collectors, and other dealers. Josiah K. Lilly, the well-known pharmaceutical executive, commissioned Stack's to build his collection. Now in the Smithsonian Institution, it is the National Numismatic Collection's greatest donation.
Eventually, Joseph and Morton passed ownership of the company to their sons, Norman, Harvey and Benjamin. Harvey became the company's main spokesman. And, if you knew Harvey, he always had something to say! He perhaps is best remembered for his testimony before the U.S. House Banking Committee in 1995, in which suggested the issuance of five different quarters each year, with one side featuring a historical event, landmark or product from that state. His idea inspired the 50 State Quarters® program, which revitalized the hobby for a new generation of collectors. Harvey also fought for clearer import regulations on coins purchased overseas and worked with the ANA and other professionals to develop a standardized grading system for coins.
Harvey's son Lawrence ("Larry") joined the firm in 1973 and was responsible for bringing to the company many significant collections, including the John J. Ford Collection. Larry became internationally known for his expertise in world numismatics in addition to all things U.S.
The Stack Family received the Medal of Merit in 1982 and Lifetime Achievement Award in 2010. Harvey was named the 1997 Numismatist of the Year. In 1990-91 he served as president of the Professional Numismatists Guild (PNG), which gave him its Lifetime Achievement Award for his work on the State quarters and his lifetime contributions to the numismatics. The Stacks have also assisted the ANA financially, professionally and culturally over the years.
In 2011 Stack's merged with Bowers and Merena to form Stack's Bowers Galleries, one of the top numismatic auction firms in the country. The company continues in the footsteps of these giants in the hobby in supporting the ANA in numerous endeavors.
Congratulations to Q. David Bowers and The Stack Family for receiving this prestigious honor.