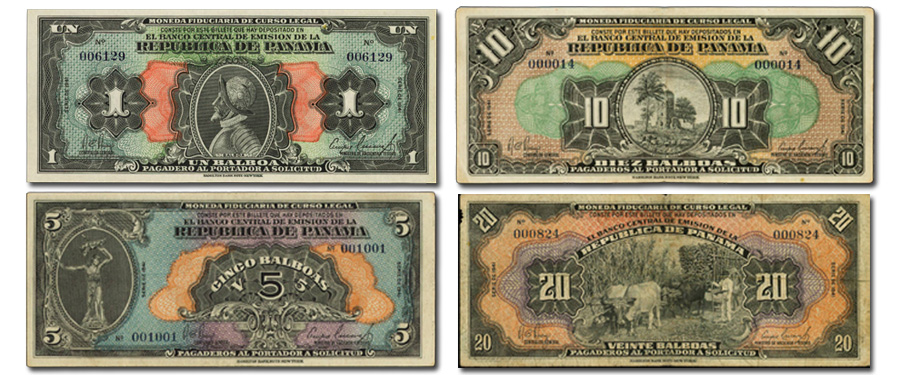 The "Banco Central d Emision de la Republica de Panama," banknotes issued in 1941 are a numismatic favorite and always attract great interest among collectors when offered at auction. The series comprised just four denominations with One, Five, Ten and Twenty Balboa notes produced. The notes were printed by the Hamilton Bank Note Company of New York and each of the denominations employed bold contrasting colors with identical format size. Vignettes changed through the four notes along with the color selections. The only readily available note of the series is the One Balboa, which due high demand still commands a low four-figure price in average circulated grades.
The series is commonly referred to by the nickname "The Arias Issue," which references President Dr. Arnulfo Arias. The President was largely responsible for the introduction of a new article which would authorize official and private banks to circulate paper money and the first and only bank to do so was the Banco Central Emision de la Republica de Panama. The bank received the authority to circulate up to six million Balboas in banknote form, although a little less than half that number was released on October 2, 1941. The most fascinating aspect of this series was the incredibly short period of circulation, lasting over a week. This short stint was due to Dr. Ricardo Adolfo de la Guardia Arango becoming president in a cooperative with the United States. The new leadership quickly closed the bank and withdrew the notes from circulation, at the same time destroying the remaining stocks. The short circulation period resulted in the high rarity of the notes today, especially the higher denominations.
The One Balboa note features a central portrait vignette of Spanish explorer Vasco Nunez de Balboa and is largely green with bright orange guilloche styling at left and right of center. The Five is found with blue primary under-printed color and a transition to purple at center and orange guilloche at left and right. A standing vignette of Urraca is found at left and blue color is used on the back.  Ten Balboa notes displayed a brown hue changing to yellow at center with green flanking the central vignette of an old fortress. The back again matches the primary under-printed color. The highest denomination for this scarce series was the Twenty Balboas and is a considered a "Trophy Note" among dealers and collectors due to its high rarity. Vibrant orange utilized at the face and back with contrasting purple inks surrounding the left and right central counters. A much larger vignette than the lesser denominations adorns the center with a farm scene depicting an ox cart. To have a complete set of these notes is quite the feat in any grade and finding examples of the higher denominations in Uncirculated grades is extremely rare.