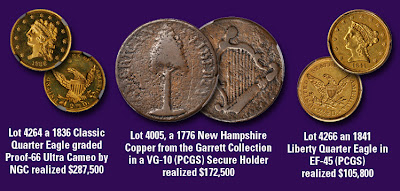 The auction that Stack's Bowers Galleries held on March 21 through 24 with the Whitman Coins & Collectibles Baltimore Expo saw enthusiastic bidding activity from beginning to end, noted vice president Christine Karstedt. "The sale was extremely well received and bidding activity was at a high. The internet competed heavily with the full gallery and the busy phone bank which kept everyone on the edge of their seats as to from where the winning bid would come. Also, we had a wonderful reception to the rebirth of our Rarities sales, an old-time tradition established by Bowers and Merena many years ago."
Reflective of the current market strength and also the quality of the items offered, nearly all record setters advanced bid by bid well over the opening price. "Strong prices were realized across all series which bodes well for continued growth through the next quarter," added Chris Napolitano, president of the firm. "Action on the bourse floor mirrored the competition in the auction room with active trading from start to finish."
The attractions were many. A 1652 Massachusetts Pine Tree shilling, Large Planchet, Noe-1, in EF-45 (PCGS) from the Jim Jones collection crossed the block at $12,650. This particular variety has long been thought of as iconic for the colonial series, and years ago, another example (the Eliasberg coin) was widely featured. An undated (1659) Lord Baltimore shilling in EF 40 (PCGS) attracted a lot of attention and finally settled at $23,000. Not long after, a 1776 Continental dollar with the CURENCY misspelling, AU-58 (PCGS) CAC, was sold for $71,875. Auctioneers throughout the event were Melissa Karstedt and Marissa Lederman, both of whom had little rest during the sale, and then a couple of days later headed off to Hong Kong for the Stack's Bowers and Ponterio auction to be held there. Lots of activity!
Creating great excitement was a 1776 New Hampshire copper, graded VG-10 by PCGS, purchased by the consignor from the Garrett Collection in 1980 for $8,000. The coin opened at $45,000 and went up, up, and up some more as bids came from several directions on the auction floor and on the Internet. Finally, the $100,000 mark was crossed, more than ten times the price paid, but action didn't stop there. Bidding continued, and finally it went to a new home for $172,500, rewriting the record books.
Reflective of the broad interest in 19th and early 20th century Proof coins, an 1864 Small Motto two-cent piece in Proof-65 RB (PCGS) CAC saw lots of action and finally settled at a record $112,125. There was much activity and excitement with many other early Proof coins as well.
A classic 1792 half disme in AU-58 (NGC), of which just 1,500 were struck in Philadelphia under auspices of the government but before the Mint opened, raised eyebrows when it was knocked down for $212,750. Not long afterward an 1842-O Small Date Liberty Seated quarter in AU-53 (PCGS), created much interest, including on behalf of members of the Liberty Seated Collectors Club, and soared to $13,225. An 1838 Gobrecht silver dollar, a Judd-84 Restrike, Proof-64 (PCGS), considered to be the rarest of the three Gobrecht dollar dates, went to $83,375.
Trade dollars, once a rather numismatically obscure series, have come to the forefront in recent years and those in the Stack's Bowers sale did well across the board, as exemplified by an 1877 Proof-65 Cameo (PCGS) CAC that went to a proud new owner for a strong $20,125. Gold coins were strong from start to finish in the Baltimore Expo sale. An 1878 gold dollar in MS-67(PCGS) CAC, a remarkably high grade, went for $37,375. All bets were off and the room was up for grabs when an 1836 Classic Head quarter eagle, graded Proof-66 Ultra Cameo (NGC) came up for bidding, advanced step by step, until one buyer was left standing—at $287,500! The 1841 quarter eagle, affectionately called the Little Princess, had been the object of much interest in recent times, based upon a study conducted last year and early this year by PCGS. A PCGS EF-45 example of this rarity was on the block and the action did not stop until $105,800. Among half eagles, an 1804 with small 8 over large 8, MS-62 (PCGS) CAC, went for $24,265. A 1909 Satin Finish Proof Indian half eagle graded Proof-66 (PCGS) from the Demarete Collection skyrocketed to $83,375. Among Liberty double eagles an 1876-S in MS-64+ (PCGS) CAC, surprised the audience at $46,000 and a marvelous 1907-D in MS-67 (PCGS) sold for $74,750.
Among commemorative coins a 1922 Grant With Star, certified as Proof-64 by PCGS, broke all records at $184,000. Not long afterward a 1934 Maryland half dollar, certified as Proof-64 by NGC, raised eyebrows at $109,250. Territorial and private gold coins featured an 1851 Augustus Humbert $50 gold "slug" with lettered edge, 880 THOUS variety, AU-55 (PCGS), that was bid up to $138,000.