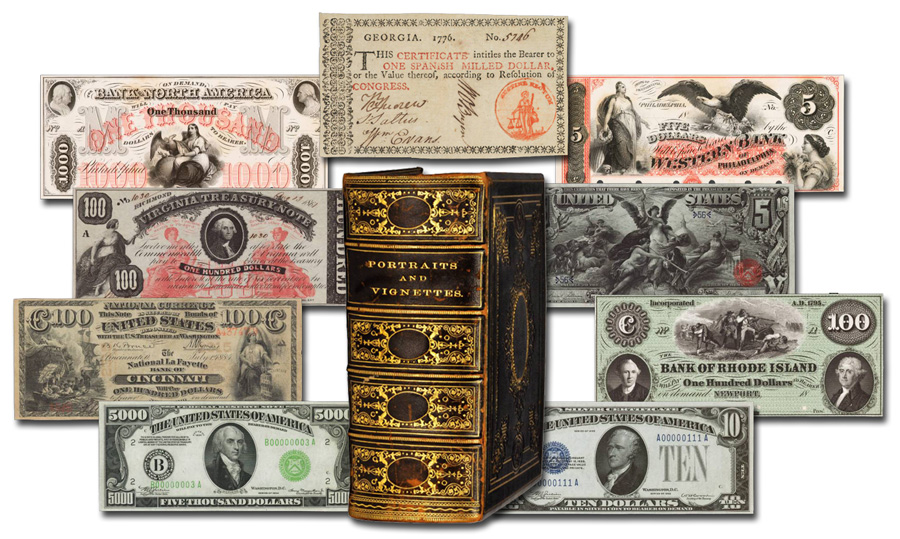 The auctioneers at our March 15, 2013 paper money session in Baltimore had the undivided attention of all bidders, floor and Internet, over the course of 924 lots as just over $2 million was sold in our strongest Baltimore paper money auction yet. The often frenetic bidding activity sometimes slowed things a bit, but many notes had multiple room bidders and several more on the internet. The Obsolete Currency section was especially active and was easily the most exciting offering sold since our ANA sale last August.
Colonial notes encompassed very rare items to the most popularly collected types. Though several notes failed to reach low estimate, the vast majority sold. The strongest activity was in notes valued in the $500-$1,500 price range, preferably PCGS certified, and with historical interest or eye appeal. Several sharp looking Georgia notes, recently discovered, found new homes such as Lot 5008 at $2,585, a bold 1776 Justice Seal $1 note.
The 216 lots of Obsolete Currency, with few exceptions, saw spirited action from multiple directions and bidders. Several old collections were consigned and many of these notes were last sold long ago or, in some cases, were absolutely new to the market. The highlights are too numerous to mention as very few notes sold below low estimate. Obsolete proofs were led by a stunning Bank of North America $1000 proof that was recently discovered and one of two known. Opening at $13,000, this treasure, Lot 5183, finally settled at $29,375. A magnificent collection of Rhode Island proof notes not only boasted a 100% sell through, but more often than not, the high estimates were approached or topped. The stunning Newport Bank of Rhode Island green $100 proof, Lot 5215, saw the fiercest action before stopping at $15,275. This was multiples what it brought the last time it was sold. High denominations and color notes were the strongest, but there was much bidding depth in the $500-$1,500 bidding range. A strong Virginia section was topped by impressive and likely record results for Virginia Treasury Note types Cr. 1 and Cr.2. The $100 Cr.1, Lot 5348, realized an astonishing $21,150. The $50 Cr.2 also climbed the ladder fast to $15,862.50. Strong interest in Presentation Vignette Books continues. A mammoth format BEP vignette book with over 200 plates, Lot 5356, fetched $21,150, which might be the all time record for any book from this genre.
Federal Large Size, Small Size and National Banknotes gathered up the final, close to 600 lots. A compact section of Large Size type had a superb PCGS Gem New 67 PPQ $5 Educational, Lot5413, realize $49,937.50 — just missing the $50K plateau. The session was rich in Small Size Currency with several new collections being offered for the first time. Superb notes from the well crafted Thomas Vandenbosch cabinet featured rarely seen blocks, mules, high grade types and a lovely 1933 $10 Silver Certificate, Lot 5505, that was very actively pursued to $25,850. The Serial Number 3 1934 $5,000 Fr.2221-B topped the entire session at $70,500 when sold as Lot 5561. Unusual serial number notes, number one notes, fancy number sets, and related items were sold as a special section. A select group of National Banknotes included several rarities, with the highlight an Original Series National Lafayette Bank of Cincinnati, Ohio $100 Fr.461, Lot 5885, which finished at $32,900, well above high estimate.
Though the session was done for Friday, there were 392 Internet Only lots sold on Tuesday, March 19th. Many were rather strongly bid, particularly attractive and scarce obsolete banknotes. Additional Rhode Island proofs from that collection met with further enthusiasm. A gorgeous full color Western Bank, Philadelphia $10, lot 9099, realized 1,292.50.
In the wake of this auction's success, it is great time to make plans to consign to the 2013 ANA World's Fair of Money Sale at Rosemont. We are already planning a stellar paper money offering at the ANA based on consignments in hand. Each of the last two years had sales in excess of $6 million each with strong participation. It is never too early to make your plans and space runs out quickly for the premier paper money auction of the year. See us at the CSNS Show in Schaumberg at the end of April, or preferably call toll-free, Matt Quinn (1-800-458-4646 in CA) or Bruce Hagen (1-800-566-2580 in New York) to discuss placing your important paper currency in the coveted ANA auction. A great selling opportunity awaits you.