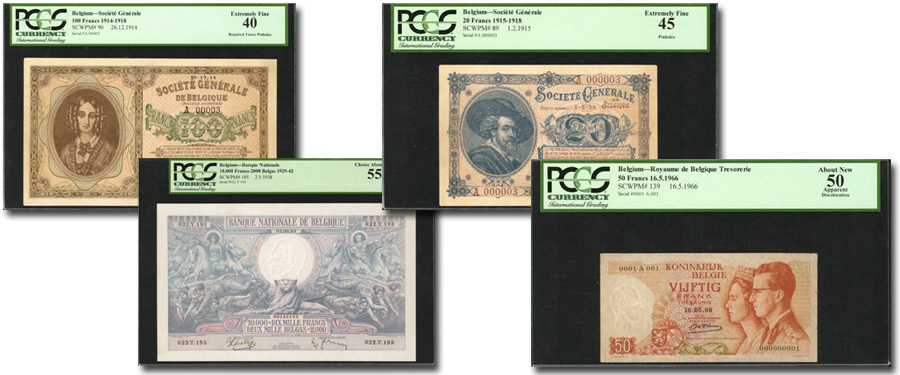 Our May Collector's Choice World Paper Money Sale is
currently available online. This sale offers over 400 lots of certified
material and is strong in many areas. One of the standout countries is Belgium,
a section that contains the following highlights. 
Lot 72036 features a Pick 139 Serial Number 1, 1966 50
Francs piece in a PCGS AU holder. The note features vignettes of Boudewijn I and
Queen Fabiola. Not only does the note bear serial number 1, but it is also A
Block. PCGS mentions discoloration on the holder, but it is not very distracting.
The following lot, 72037 is the specimen version of this note, numbered
Specimen 1.  
Some other low serial numbers from Belgium include lot 72026 Pick 86 and 87; lot 72028 Pick 89, a gorgeous 20
Francs in EF, and lot 72029 Pick 90, a high denomination 100 Francs, all with
serial number 3. Lot 72027, a Pick 88 5 Francs, is a Serial Number 5 note.
Another highlight is the Pick 105, PCGS CAN 55, high
denomination 10,000 Francs piece found in lot 72030. The color on this
piece is striking and desirable for the type, as the paper and ink used
typically causes most examples to be faded and problematic. The vignettes are
life-like with Poseidon holding his trident. Allegorical figures including
Demeter (Ceres) at left and Poseidon (Neptune) at right. Both are seen with
horses below them and maidens below the horses. At center is a statuesque Lion
resting above the obligation. The centering is marvelous and the eye appeal suggests
a much higher grade. This example bears the 1938 date and  is one of the nicest we have handled for the
type.
The Stack's Bowers Galleries May Collectors Choice
Online Auction of world paper money is available for bidding now. The sale
itself will take place Wednesday May 16th, 2018 at 9 AM PDT. To
register for bidding please call us at 800-458-4646, or email [email protected]. To discuss future consignments, please contact [email protected].