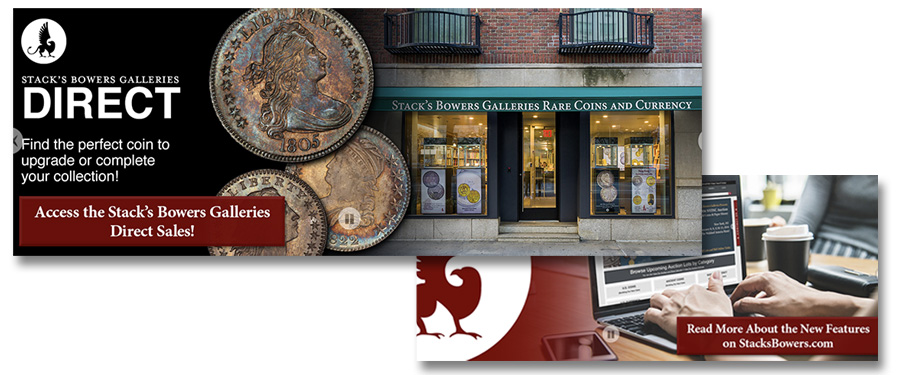 A recent article told of the
opening of our new flagship store on Park Avenue in New York City. Everyone is
very excited to be in our new store and while we are still settling in,
business has been carrying on as much as it can during our current times.
Of course, right now
traveling to New York City may not be in your plans. But that doesn't mean you
can't take advantage of the direct sales opportunities provided by Stack's
Bowers Galleries. Whether you are looking to locate a certain coin, buy or sell
bullion, or find out what something is worth, you can always contact us by
telephone at 800-566-2580 (East Coast) or 800-458-4646 (West Coast). Our
website at StacksBowers.com is also a great resource for information and for purchasing. You can
visit SBG Direct,
our online store, where we have interesting and ever changing items for sale.
This makes me think about how
the hobby has changed in my nearly 70 years as a coin dealer. When I started
and for decades afterward, the usual way to purchase a coin or two from a
dealer was to send an order form from a fixed price list or a letter requesting
an item seen in an advertisement, with payment by check. The next technological
advance to coin sales was the telephone and the toll-free number, made easier
by the prevalence of credit cards and the ability to "pay immediately."
The Internet changed all that
and made shopping and purchasing much faster and easier for both sides. Now you
can order today and have your item tomorrow (with overnight shipping – another
thing that wasn't even thought of half a century ago). While sometimes I am
nostalgic for that slower pace and for the greater personal interaction that
seemed to go along with it, I am also enthusiastic about all the opportunities
that have come with our digital age. Just the research possibilities provided
by the Internet are mind-boggling and we are now able to find out so much more
about the stories behind coins, paper money and, especially for me, tokens and
medals.