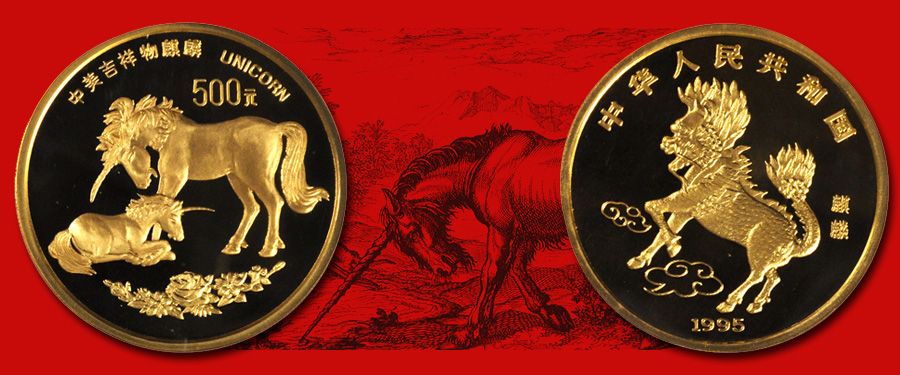 This week's preview for the August 2018 Hong Kong Showcase Auction is from the highly collectible Unicorn series. This run of modern coinage is famous for connecting East and West and their two similar mythical beasts. The obverse depicts the western unicorn, which is classically represented as a pure white horse with a distinctive spiraling horn on its forehead and the beard of a goat, typically representing purity and grace in western culture. Two Unicorns are shown on this obverse design, an older adult is facing left with its head bowed, while the other, seemingly a foal, is pictured lying down at the adult's front hooves. A grouping of flowers appears beneath the two unicorns, and the denomination of 500 Yuan appears above. The upper Chinese inscription states: "Sino-American Unicorn Lucky Mascot" and is followed by the English: "UNICORN."
The reverse design showcases the fearsome "eastern unicorn" or "Qilin." This mythical beast has the head of a dragon on a body similar to a horse but covered in scales, the hooves of an ox and the tail of a lion. The Qilin is usually depicted surrounded by flames, and despite its terrifying appearance it is usually a gentle beast and a good omen said to bring prosperity. The appearance of this beast usually heralds the birth or death of a sage or distinguished ruler. In this instance the Qilin is illustrated rearing up facing left over two wisps of smoke or clouds. To the right appear two Chinese characters denoting "Qilin," and above the remarkable mythical beast appears the inscription which reads "People's Republic of China," and below the Qilin appears the date of 1995.
While we are no longer accepting consignments of Chinese and other Asian coins and currency for our August 2018 Hong Kong Showcase Auction we are accepting consignments for the April 2019 Hong Kong Showcase Auction. In addition, we are currently taking consignments of world and ancient coins and world paper money for our October 2018 Collector's Choice Online Auction as well as the January 2019 New York International Auction. If you are interested in consigning your coins and paper currency (whether a whole collection or a single rarity) be sure to contact one of our consignment directors.