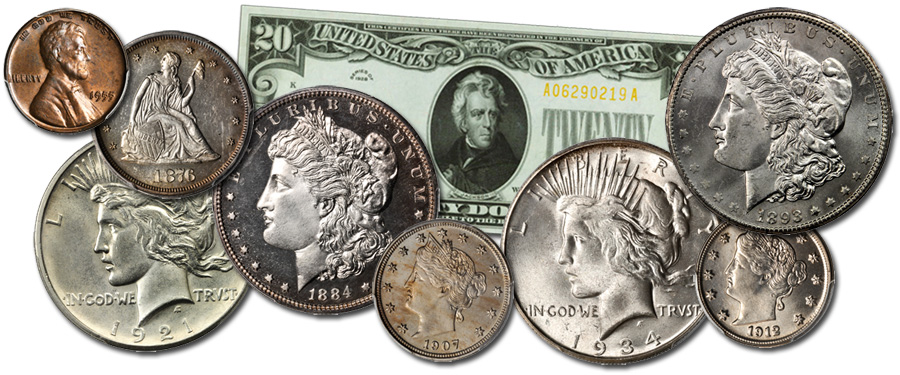 One of the most exhilarating parts of being a consignment director is meeting with all sorts of collectors, all over the country whose passion and interest are evident by the quality of the coins in their collections. One of these collectors is Dr. Donald Gutfreund, who in the 1970s assembled a lovely collection of Morgan and Peace dollars, Proof Liberty nickels, type coins, and assorted currency. After leaving numismatics to pursue other collectibles in the early 1980s, the coins remained off the market until late last year, when he contacted Stack's Bowers Galleries. The Dr. Donald Gutfreund Collection is now being made available to the current generation of numismatists. While this space is generally designated for a single highlight, I felt inspired to write about the collection as a whole.
Dr. Gutfreund grew up in a family of artists and health care professionals, and exposure to the sciences influenced his decision to become a physician. He has enjoyed a career spanning 31 years as a practicing hematologist-oncologist and post-graduate instructor in medicine at New York City's Mt. Sinai Hospital. Commenting that a good foil for his responsibilities in patient care was exposure to beauty in the world of art, Dr. Gutfreund continues to collect art glass, figurative bronzes, and paperweights; he finds their three-dimensional nature particularly enticing. In numismatics, Dr. Gutfreund found Morgan and Peace silver dollars particularly satisfying. In the 1970s he searched for and acquired outstanding silver dollars, as well as Liberty nickels and a variety of equally desirable type coins.
The coins have been off the market since before the advent of third-party certification, residing in albums. It is always a treat to see quality pieces in their natural state, reminding me what collecting is all about: the coins themselves and not the grade on a holder. While reviewing the coins in his dining room, the quality was evident, even in the poor lighting. Once the coins were received in our offices for the auction process, there was a buzz about the collection.
The collection is anchored by his lovely, mostly Mint State set of Morgan dollars, a Mint State set of Peace dollars, a set of Liberty nickel Proofs and Mint State examples of the 1912-D and 1912-S. The collection also features a near gem Proof 1884 Morgan dollar (Proof-64 Cameo PCGS), a lovely Proof 20-cent piece (PCGS Proof-64 Cameo, a choice Mint State 1955 Doubled Die Obverse cent (MS-64BN PCGS), and a "quarter pack" of 25 sequential 1928 $20 Gold Certificates (ranging from AU-58 to PCGS-graded Gem Uncirculated-66PPQ).
As these coins have not been on the market for at least 35 years, this collection is very fresh. As has been proven time and again when fresh collections appear in our sales, buyers come out and participate "with gusto." Items from the Gutfreund Collection can be viewed in our Irvine, CA headquarters, our New York Auction Gallery, or in Baltimore at the Convention Center. The entire Stack's Bowers Galleries Official Auction of the Whitman Coin & Collectibles Spring Expo is available for viewing and bidding at StacksBowers.com. If you are not currently on our mailing list, and would like to receive a copy of the Baltimore auction catalog, be sure to contact one of our auction services associates to put your name on our mailing list. If you are reading this, and, like Dr. Gutfreund, you have a collection of coins that has been sitting in a safe deposit box, the bottom of a closet, or similar location, a simple phone call to one of our auction consignment specialists is all it takes to start the process.