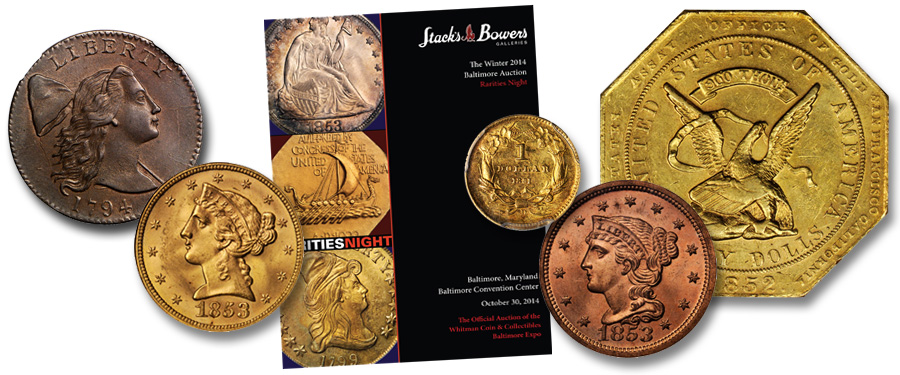 Always a Magnet
Rarities Night and its antecedents have been a tradition with us for many years. It's several hours of bidding activity that features the finest of the fine, the rarest of the rare — or close, perhaps the numismatic equivalent of a concours d'elegance. These special auction events are always a magnet and attract attention from far and wide. Of course, this event cannot stand alone. The specialist in double eagles who pursues the rare 1885 offered here also needs (or already has) a common 1904-S, for example. Rarities are the highlights of any collection.
The 1853 Collection sets the tempo for Rarities Night. One hardly ever hears of Proof silver coins of this year, and yet there are several here. At the other end of the spectrum is the 1853-O Liberty Seated half dollar without arrows, one of only four known to exist, all of which are extensively worn. The 1853 Proof restrike silver dollar was made when it was realized that no original Proofs had been made that year. Tradition has it that only 12 were struck, probably under the watch of James Ross Snowden as Mint director. This coin, offered as part of The 1853 Collection, is pedigreed to Floyd T. Starr, an old-time Philadelphia numismatist whose estate collection we sold years ago. Floyd began seriously collecting coins in the 1930s when he became fearful that the government might clamp down on private holdings in the era when citizens were commanded to surrender their gold coins for face value. Thankfully, numismatists were spared. Pedigrees always add another dimension to a coin, and included here are many great figures.
Other highlights include coins from the famous Rochester museum, The Strong, with even more selections offered in our main catalog. The history of The Strong is given in the present pages. The William Tabachnick Collection is also represented in both of our catalogs.
Beyond The 1853 Collection, lots are offered in numismatic order. Early on the list is a marvelous 1793 Chain AMERICA cent with periods, from a distinctive obverse die. This was a year of changes and evolution at the early United States Mint. Among modern cent rarities, the Doubled Die Obverse 1969-S is particularly famous, and we invite you to review the one we offer. Condition rarities in popular series such as Shield nickels, Mercury dimes, Standing Liberty quarters, and other 19th and 20th century series offer many opportunities.
Treasures will be found among gold coins of various denominations, several rare eagles such as a Mint State 1799, an 1883-CC in like condition, a 1907 Indian with Wire Rim, and an outstanding Gem Sand Blast Proof 1911. I've already mentioned the rare 1885 double eagle. For the specialist, there are important patterns, rarities in the Norse-American Centennial medal series, and a Mint State 1852 California gold "slug."
Come to the Sale
If your schedule permits, drive, fly, or take the train to Baltimore to be a part of Rarities Night and our companion sessions. A warm welcome awaits you. Meet and greet our staff, examine auction lots, and take part in one of the most active dealer bourses of the year. Opportunities abound.
I remind you that Baltimore is one of the most numismatic of all cities. For starters, Louis E. Eliasberg, Sr. lived here and formed what no one has ever done before and will never do again: a complete collection of every date and mintmark of United States coin from the 1793 half cent to the 1933 double eagle. The Garrett Collection was formed in Baltimore from the 1870s through the late 1930s, a legendary cabinet. Waldo C. Newcomer, Mendes I. Cohen, George Massamore, Frank Duffield, and other greats from Baltimore all have niches in the Pantheon of numismatics, not to overlook Dr. George Fuld, who in his lifetime made immense contributions of study and research.
Participate Online
If you cannot attend in person, our state-of-the-art website permits participation in real time from Redmond, Morristown, Vladivostok, Monaco, or wherever you may be. Participation is easy. Preregister and perfect your credit arrangements. Then when the sale is in progress, you can watch the auctioneer in real time, click the "bid" button, and be a part of the action. Although no one could have predicted this a generation ago, today it is far and away our most popular bidding venue! With advance arrangements you can also participate by telephone, and a member of our team will represent you in the auction room.
Consign to Our Next Auction
As we prepare to bring our 2014 auction schedule to a close, we invite you to take advantage of the excitement and enthusiasm that awaits, and be a part of our dynamic 2015 auction program! We are currently accepting U.S. coin and currency consignments for the January 2015 New York Americana Sale, March 2015 Official Auction of the ANA National Money Show in Portland, and our March 2015 Official Auction of the Whitman Coin & Collectibles Baltimore Expo. For information regarding these upcoming sales and inquiries on how to have your rarities featured in future auctions, please visit StacksBowers.com, or contact a consignment director at 800.458.4646 (West Coast) or 800.566.2580 (East Coast).
On behalf of all of us at Stack's Bowers Galleries, we appreciate your review of our Rarities Night catalog for the Winter 2014 Official Auction of the Whitman Coin & Collectibles Baltimore Expo. It promises to be a grand event, and we look forward to you being a part of it.
Sincerely,
Q. David Bowers
Founder