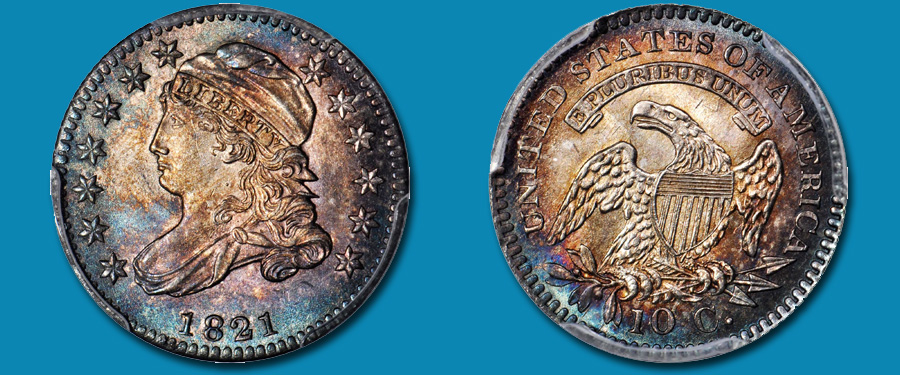 Stack's Bowers Galleries is pleased to be offering a selection of remarkable early dimes in our October 2018 Baltimore Auction. Among them is a Gem 1821 JR-9 that ranks among the finest known of the variety. Warm golden iridescence accents the centers of each side, with a vibrant glow of violet and sapphire in the peripheries. The luster is satiny across all regions, fully undisturbed by friction. The coin is sharply struck, with subtle evidence of clashing around the focal elements. It is a truly exceptional piece.
The 1821 Small Date issue was created through the mistaken use of a date punch intended for quarter eagles, resulting in a date that is considerably smaller than usual. The Small Date issue is notably scarcer than the Large Date issue for the year, appearing to be about three times as rare if certified populations are representative of actual extant examples. Among the Small Dates, JR-9 is one of the more common varieties, though at the Gem level it is a considerable rarity.
The present piece is the only example certified MS-65 by PCGS under the JR-9 attribution. Just the Pogue specimen ranks finer at MS-66. This piece is finer than even the Allen Lovejoy specimen certified MS-64 (PCGS). Having earlier been certified MS-66 by NGC, the current example is choice for the grade.
This premium Gem dime will be sold alongside a number of incredible rarities in the Official Auction of the Whitman Coin & Collectibles Winter Expo, including an AU-58 (PCGS) 1792 Birch cent and an AU-58+ (PCGS) 1792 Disme in copper, both from the Archangel Collection of Colonial and 1792 Coinage. The sale will be available for viewing and bidding on our website www.StacksBowers.com, or you may contact our offices to secure a printed catalog. To speak with a numismatic representative, please call 800-458-4646 or email [email protected] Also, download our mobile app to view and participate in our auctions via your Android or Apple device.