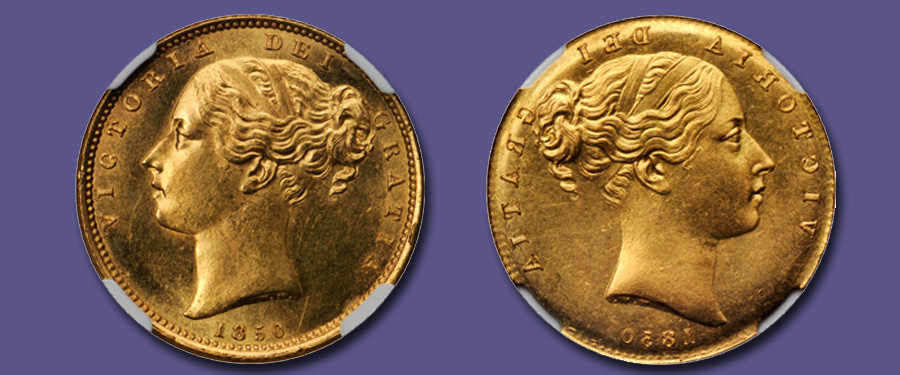 Often overlooked in the past, in recent years world error coins have attracted much more interest among numismatists. These coins, considered "freaks" in the past, are now sought after by specialists. One of the highlights already consigned to the Stack's Bowers and Ponterio official ANA auction sale is a lovely 1850 Sovereign Brockage. A brockage is formed when a struck coin becomes stuck in the die, and another planchet is fed either on top (obverse brockage) or below (reverse brockage) and then is struck. The result shows a "normal" strike on one side, with a mirror, incuse image on the other.
Long respected for its quality control standards, the Royal Mint took painstaking efforts to prevent errors from being released into circulation, making most error types rare. This is even more true for gold coins. This example we will be offering this August, showing the popular Young Head portrait of Queen Victoria, dated 1850, must have been quickly discovered, as it is in Choice Mint State, certified as MS-63 by NGC. The properly struck side displays radiant mint luster with bright golden highlights. Some minor marks in the field limit the grade. The reverse (or incuse) side, likewise has some minor scattered lines in the fields (these being the highest points on this side, and are easily prone to marks). Both sides display a very bold strike.
While we do not know when and where this coin was released into circulation, we can conclude that it took place very soon after leaving the Royal Mint. Perhaps some lucky teller in a bank saw it in a group of freshly struck Sovereigns, and traded an older example to take home this curiosity. Over the next century and a half, this piece has obviously been handed down generation to generation and cared for by each person who has owned it. It is now being offered for sale, and now you have the opportunity to purchase this lovely rarity.
If you are a collector of error coins, be sure to view this coin during our lot viewing sessions at our offices (information on dates will be available shortly for our Irvine and New York offices) or at the ANA convention in Rosemont. If you are not currently on our mailing list, be sure to contact one of our auction services representatives to reserve your copy. The ANA Convention is the most important numismatic event of the year, and auction catalogs are always in hot demand, so be sure to contact us soon.
 Last minute consignments of world coins are still being accepted, so if you have a single rarity, some interesting duplicates, or a collection of world coins, please contact one of our Consignment Directors for more information. Space is limited so call or email today!