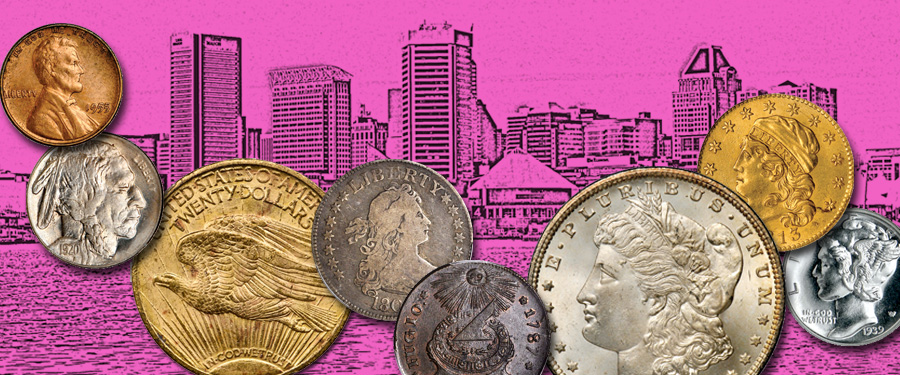 Did you
know Stack's Bowers Galleries is accepting consignments of U.S. coins, tokens
and medals for the Official Auction of the Whitman Coin & Collectibles
Summer Expo through March 29, 2019?  If
you are thinking of selling, think of Stack's Bowers Galleries. If you
carefully consider the matter, there is no other logical choice. Our unequalled
record of success dates back to our first sale in 1935, and continues now, over
80 years later. We have handled thousands of collections from modest in size to
the greatest ever built. Whether you have some choice and interesting
duplicates, sets, or series to sell or whether you have a great collection
laden with rarities, our team of experts would like to hear from you.
Let our
success be your success. Let us present your coins, tokens, medals, and paper
money to the finest clientele of private buyers, museums, investors, and
dealers of any auction house. The same buyers who have set records in the past
will be bidding on your consignment! A win-win experience awaits you.
The Official
Auction of the Whitman Coin & Collectibles Summer Expo will cross the
block, May 28-31, 2019, in Baltimore, Maryland. For one low, competitive
commission rate we will take care of everything: visiting you to make
arrangements and pack your items (for larger consignments), receiving your
items at our end by insured carrier at our expense (for most consignments),
insurance, publicity, cataloging by the world's most accomplished team of
professionals, superb graphics, and more
If you
are attending the National Money Show in Pittsburgh, Pennsylvania March 27-30,
stop by Table 601 and 700 to speak to a consignment specialist. Or call a
consignment specialist today at 800-458-4646, or email us at [email protected]. We will take care of
everything. All you need to do is cash our generous check!