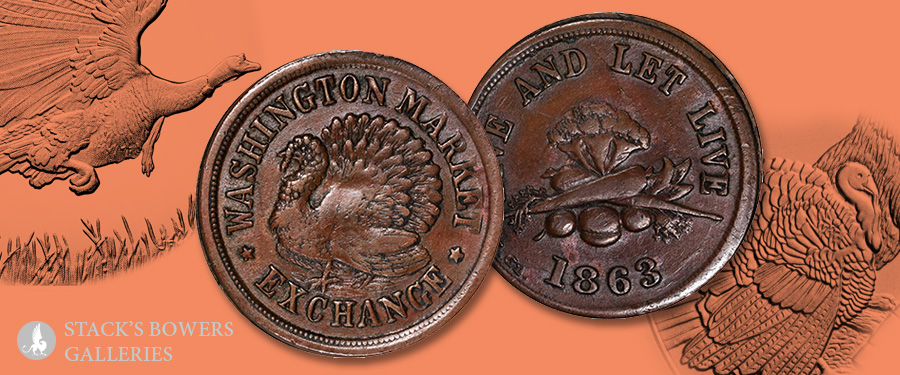 With Thanksgiving approaching, numismatists may not be thinking about exonumia, but there are some coins, tokens, and medals that display Thanksgiving-related themes. In this blog, I'll very briefly focus on numismatic items that depict turkeys.
One notable example is a visually distinctive Civil War token store card produced for New York City's Washington Market in the 1860s. A turkey occupies the token's obverse, surrounded by text identifying its issuer. Washington Market was established in 1812 and operated for nearly a century after this token was issued, closing its doors in the early 1960s, according to a 2015 WNYC article. https://www.wnyc.org/story/fall-washington-market/
While the token's reverse doesn't quite depict a cornucopia, the produce does bring to mind the vegetables, stuffing, cranberry sauce, etc. that flank a turkey – or a vegetarian/vegan-approved substitute – on many American dining room tables. The saying "LIVE AND LET LIVE" appears above the produce, a motto that families might follow when navigating holiday conversations, but that doesn't seem to have done the turkey any good. The engraver's initials, "G. G.L." appears at about 7 o'clock on the reverse.
Listed as Fuld-630CC-4a, the token is fairly common in Uncirculated grades; two examples, one a raw AU, the other graded MS-65 Brown by NGC sold in one of our sales earlier this year for $192 each. Examples have crossed our block for prices ranging from $30 to nearly $3,000 (for an unlisted die combination) over the last decade or so. While you could buy quite a few turkeys for the larger sums, budget-conscious collectors can still find attractive examples.
As for other numismatic turkeys, another piece of exonumia, a 1978 Mardi Gras token, depicts a wild turkey, while those looking for U.S. coins have a couple of other options, two of which were struck more recently than the Washington Market tokens. A turkey appears alongside a turtle and a wolf on the reverse of the 2013 Native American dollar commemorating the 1778 Delaware Treaty and a wild turkey appears on the reverse of the American the Beautiful quarter honoring Louisiana's Kisatchie National Forest issued in 2015. In addition, several modern European coins depict turkeys or their relatives.