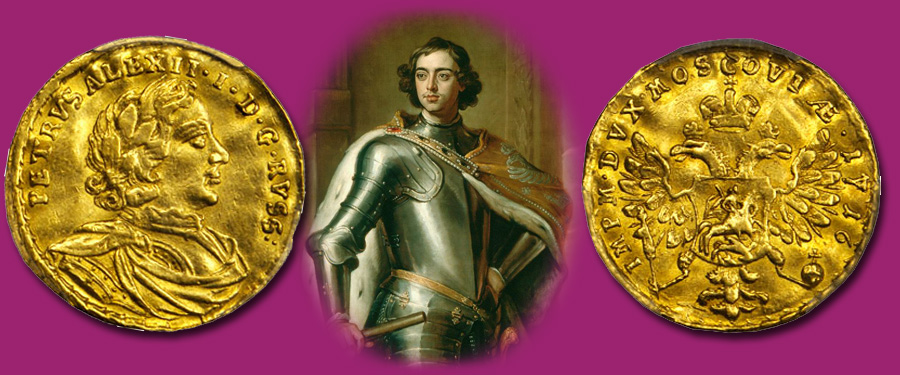 ​The rare and historically important Russian Ducat of Peter the Great with a
Latin Inscription caused quite a commotion
when it entered our office, and our enthusiasm was clearly shared by the
numismatic community. The high estimate of $50,000 was blown away as this coin
hammered at $100,000. This extremely rare piece was struck by Peter Alexeyevich
(later earning the epithet "the Great"), who ruled Russia for over 40 years,
forged the Tsardom into an empire, and succeeded in modernizing the
traditionalist and medieval society. Peter was successful in fomenting a
cultural revolution after he toured Prussia, the Dutch Republic, England and
Austria (as well as others). He believed Russia's future as a world power
hinged on a modern and European-oriented society as well as a rationalist
system of government. Peter expanded the territory through war. The most
notable example of this would be his attempt to gain a Baltic port in what was known
as the Great Northern War against Sweden. After a disastrous first sortie,
Peter's allies held the Swedish army's attention while Peter founded St.
Petersburg in recently captured territory. Swedish King Charles XII then
attempted to invade Russia, a ruinous idea that would be later be repeated by
Napoleon and Hitler. Peter was able to halt the Swedish advance, and
implemented a scorched earth policy depriving the enemy of supplies. The Swedes
faltered in the brutal Russian winter and were defeated soon after. Throughout
most of Peter's rule Russia was at war, in an effort to expand his territory
and gain an access to more seaports. The later years of Peter's reign were
marked by modernization reforms in Russia.


This coin of Peter the Great is somewhat anomalous; it is one of just a
handful of Russian coins with a Latin legend replacing the standard Cyrillic. Following
the Russian victory against the Swedish, Peter desired a more convenient method
of foreign payments, and thus the Latin Inscription Ducat came into being.
Speculation points to famed medalist Philipp Henrich Muller as the engraver for
the dies of this series. These pieces were equal in fineness of metal and
weight to the Netherlands Ducat, which was a widely used currency in
international trade and banking.
The obverse design features a right facing armored bust of Peter I, with
the legend: "Petrvs Alexii. I. D. G. Rvss." This legend is continued on the
reverse: "Imp M. Dvx. Moscoviae." This reads in English: "Peter Alexeyevich I,
by the Grace of God, Ruler of Russia, Grand Duke of Moscow." The reverse design
features the regal double-headed eagle, used as an icon of the Tsardom and
later the official Imperial symbol. Both of the eagle's heads are crowned, and
there is a third crown above the design. The emblem of Moscow displaying St.
George riding down and spearing a dragon engulfs the eagle's chest. The left
claw holds a scepter, representing monarchial power, and the globus cruciger in
the right claw demonstrates the religious authority of the Tsar and later the
emperor. This coin offers a rare and distinctive look into Russian history and
is a true numismatic treasure.


While we are no longer accepting consignments for our New York
International Auction, we are accepting consignments of world and ancient coins
as well as world paper money for our May 2017 Collector's Choice Online Auction
and August 2017 ANA Auction as well as Chinese and other Asian coins and
currency for our April 2017 Hong Kong Showcase Auction. Time is running short,
so if you are interested in consigning your coins and paper currency (whether a
whole collection or a single rarity) be sure to contact one of our consignment
directors.