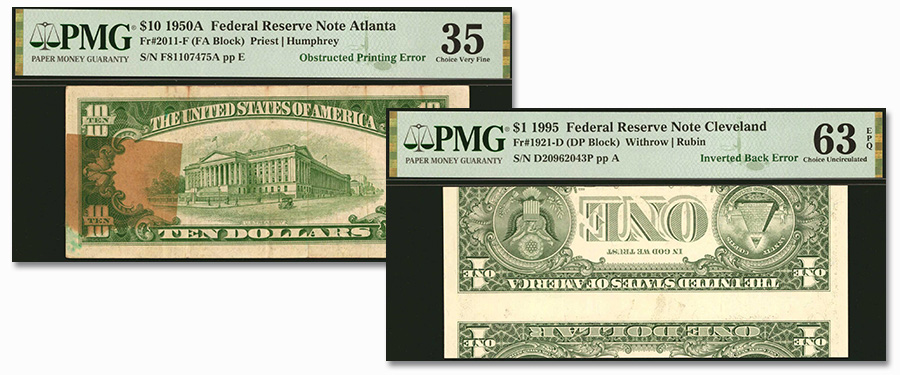 Our December Collectors Choice auction of United States currency is posted to our website for viewing and bidding. We are offering Part II of the Laguna Coast "Gnat" Registry & Rarity collection, along with a vast array of other numismatic items.
Two interesting items in the Error Note section of the sale are the following:
Lot 91368: Fr. 1921-D. 1995 $1 Federal Reserve Note. Cleveland. PMG Choice Uncirculated 63 EPQ. Inverted Back Error.
This note has a Type II inverted back error. This error resulted in a massive faulty alignment and is perhaps one of the more eye-catching error types out there.
Lot 91369: Fr. 2011-F. 1950A $10 Federal Reserve Note. Atlanta. PMG Choice Very Fine 35. Obstructed Printing Error.
A wild retained obstruction error is found on this 1950A Series $10. On the reverse of the note at left the obstruction is seen with part of the back print on it. It is impressive that this note made it out of the BEP, and collectors today should appreciate the chance to own this piece. PMG comments "Minor Ink."
We are currently taking consignments for our monthly auctions and March showcase auction. To consign your U.S. paper money and world paper money to a future sale, contact a consignment specialist at 800-458-4646 or visit StacksBowers.com. For more information on viewing lots or for assistance in registering to bid, email your inquiry to: [email protected] .