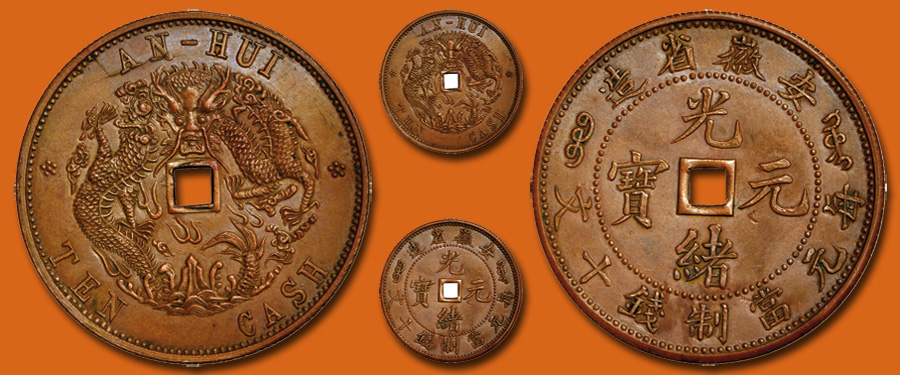 This week's highlight from the Q. David Bowers/R.B.
White Collection of Chinese Copper Coins is the amazing An-hui "Fang Kong"
pattern 10 Cash.  Struck in the style of
the earlier square-hole type 10 Cash and displaying a beautifully executed
"Water Dragon" that is far more refined than seen on later issues.  These extremely rare patterns were struck in small
quantities, with about 20 examples known bearing the characteristic die break
at eleven o'clock on the obverse.  The
limited number of specimens available coupled with collector demand has raised these
amazing issues to legendary status.
The obverse depicts an elegant rendition of the "Water
dragon" with English spelling of province name as "AN-HUI" above, "TEN
CASH" below widely spaced.  While
the reverse displays a central inscription as "光緒元寶" (Guang Xu yuan bao [Guangxu era]) within beaded border,
outer legend as "安徽省造" (An Hui sheng zao [made in Anhwei province]) above,
"每元當制錢十文" (Mei
yuan dang zhi qian shi wen [Equal to ten Cash]) below and Manchu inscription "Boo
Wan" at sides.
The masterful execution, fabulous state of
preservation and fantastic provenance of this rarity certainly makes it one of
the top pieces in this collection. It offers connoisseurs of Chinese copper
coins a chance to obtain a truly excellent example.
The Q. David Bowers/R.B. White Collection of Chinese
Copper Coins is presented in a stand-alone catalog and will be offered in our
April 2-4, 2018 Hong Kong auction. All lots in this collection, as well as the
rest of our April 2018 Hong Kong auction, can be viewed at StacksBowers.com.
We are no longer accepting consignments for our April
Hong Kong auction. We are however taking consignments of world and ancient
coins and world paper money for our May Collectors Choice Online (CCO), our
August 2018 Hong Kong, August 2018 American Numismatic Association (ANA),
October 2018 Collectors Choice Online (CCO) and our 2019 New York International
Numismatic Convention (NYINC) auctions. If you are interested in consigning
your coins and paper currency (whether a whole collection or a single rarity)
be sure to contact one of our consignment directors.​​​​