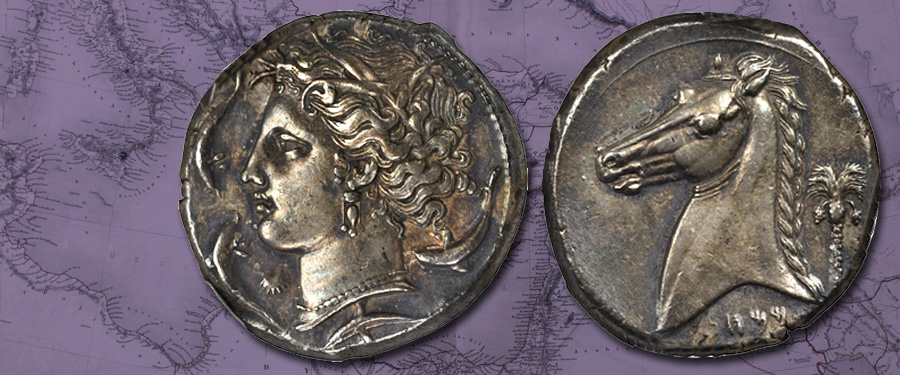 The Stack's Bowers Galleries February 2019 World Collector's Choice Online Auction is less than a week away. If you have not yet viewed the sale, please do so here. This week's highlight is a lovely Siculo-Punic Tetradrachm. This coinage was struck during an outbreak of hostilities between Carthage and Sicily. Successful efforts by Agathocles to subdue the greater part of Sicily naturally aroused a response from Carthage. The tide of the war turned as Agathocles was defeated and besieged in Syracuse. In a bold move, Agathocles broke through the blockade and landed in North Africa to threaten Carthage itself. After several initial victories, Agathocles was decisively defeated in 306 B.C. and fled to Sicily. Carthage, however, was too weakened to press its advantage and concluded a peace treaty with Agathocles that left him in firm control of eastern Sicily.
                The obverse of this tetradrachm displays a leftward facing head of the Punic deity 'Tanit' who was the chief deity of Carthage (along with her husband Baal-hamon). Sometimes she is described as Arethusa. The nymph Arethusa was once a maiden who became the desire of a river deity who pursued her through the woods until she beseeched Artemis the moon goddess for aid. Through divine intervention Arethusa was transformed into an underground stream and directed to emerge as a fountain on the island of Ortygia, the historical center of the city of Syracuse. This feminine visage is crowned with reeds and surrounded by four dolphins and a small shell below her chin. The entirety of the design is enclosed in a beaded border. The reverse is a leftward facing horse's head, with a palm tree behind and "People of the Camp" (in Punic) just below. This example has a well centered strike with fine style dies. Adding to the appeal is attractive old cabinet tone with iridescent highlights around the devices.
We are currently taking consignments of world and ancient coins and world paper money for the June 2019 Collector's Choice Online Auction and the August 2019 ANA World's Fair of Money Auction in Rosemont, Illinois, a suburb of Chicago. We are also accepting consignments of Chinese and other Asian coins and currency for our August 2019 Hong Kong Showcase Auction. Time is running short, so if you are interested in consigning your coins and paper currency (whether a whole collection or a single rarity) contact one of our consignment directors.