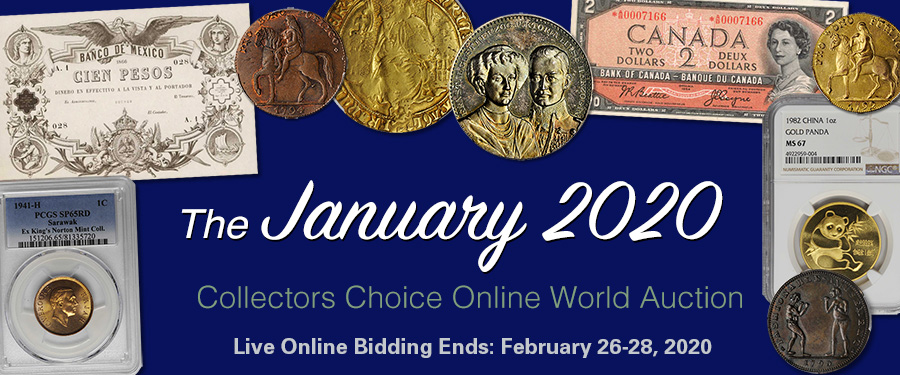 ​Stack's Bowers Galleries is pleased to present their next Collectors Choice Online (CCO) sale focused upon world and ancient coinage, as well as world paper money. This colossal sale—with nearly 2,000 lots—will represent our largest sale of this type to date, and comes right between our successful Official Auction of the 2020 N.Y.I.N.C. last month in New York and our highly anticipated  Official Auction of the Hong Kong Coin Show next month—our 10th Anniversary of sales in Asia.
February's CCO will offer material for all collectors, be they seasoned veterans or beginners, with buying opportunities for all budgets. Over the previous weeks, we've highlighted some special aspects of this CCO, such as engaging British Trade Tokens featuring Lady Godiva and the boxing champ Daniel Mendoza, World War I medals as a narrative on the events of the "great war," and even an extraordinary marriage medal for William and Mary. Additionally, there are further areas of interest, such as modern Canadian, early British hammered, Papal and Vatican issues, and Mexican reales coinage. Check out this wide-ranging and all-encompassing sale today!
To view our upcoming auction schedule and future offerings, please visit StacksBowers.com website where you may register and participate in this and other forthcoming sales.
We are always seeking coins, medals, and pieces of paper money for our future sales, and are currently accepting submissions (until May 4th) for our upcoming CCO (Collectors Choice Online) auction in June 2020. Before that, however, our next larger format sale will be our Official Auction of the Hong Kong Show in March 2020—a monumental event that will mark our tenth anniversary of auctions in Asia! If you would like to learn more about consigning, whether a singular item or an entire collection, please contact one of our consignment directors today and we will assist you in achieving the best possible return on your material.