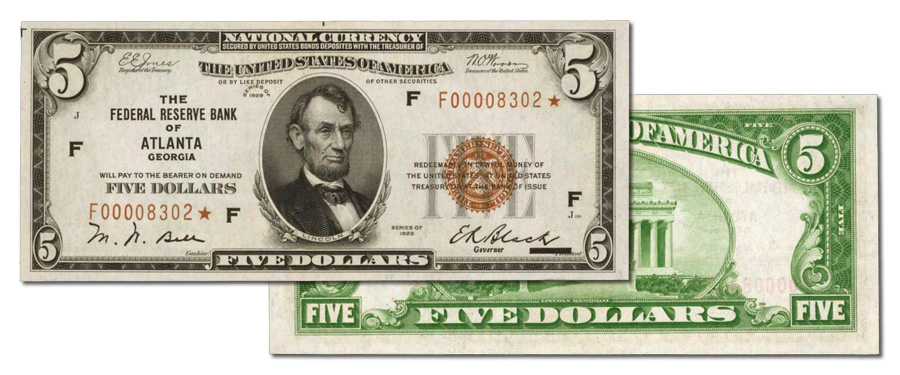 Our August
CCO auction will feature The Gary Burhop Collection of 1929 Federal Reserve
Bank Notes, which consists of 102 FRBN's from various districts and
denominations, including replacement notes, with quite a few treasures included
in this fantastic offering. We offered the Gary L. Burhop Type Coins of Canada
in our Bowers and Merena sale of 1996, which at the time was considered the
most complete and finest collection of Canadian type coins ever assembled.
    Mr. Burhop has collected coins and currency for 60+ years and is
a life member of the American Numismatic Association, along with other various
numismatic groups. Gary has been an active bidder since 1973 with various
auction houses, and an active trader since 1974 participating in local and
regional shows often attending six or more shows each year. He has held a
number of numismatic-related jobs throughout his life, including being
appointed Chairman for The Tennessee State Quarter Commission, gathered to
select the design for the 2002 dated twenty-five cent coin honoring that state.
He also served as the Tennessee State Editor of Whitman
Publishing's reference on circulating banknotes issued from the 1830s
until after the Civil War titled Obsolete Paper Money, Volume 7 –
Southern States. We are proud to offer Gary's notes – the second finest
assembled registered set of PMG FRBN's.
Once such treasure from Gary's collection is Lot
90013 Fr. 1850-F* 1929 $5 Federal Reserve Bank Note from the Atlanta
district which is graded About Uncirculated 55 by PMG. This example represents
a significant opportunity for replacement note collectors, as this Atlanta $5
star note is currently the second finest graded by PMG. The note has the
initial appeal of a Gem examplen with broad borders and a remarkably bold
impression of the design. The circulation very faint, leaving us unable to
discern where it lies looking through the holder. PMG Pop 1/1 finer.
The Stack's Bowers Galleries August
CCO auction is currently posted to our website and open for bidding. The
sale will take place on August 31st at 9 AM PDT. To consign your
U.S. paper money & world paper money to a future sale, contact a
consignment specialist at 800-458-4646 or visit StacksBowers.com. For more
information on viewing lots or for assistance in registering to bid, email your
inquiry to: [email protected]​.​