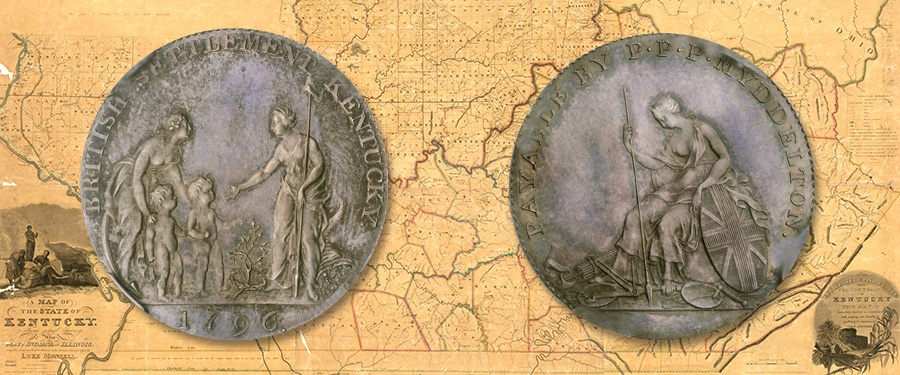 ​While never intended to circulate in America, the 1796 Myddelton token tells a profound story about American immigration in the post-Revolutionary period. Englishman Philip Parry Price Myddelton controlled a large piece of real estate in Kentucky and had attracted about 1,200 English tradesmen to populate it. However, this practice ran afoul of a British law meant to stop the exporting of valuable laborers. The project ended, but not before dies for Myddelton's tokens had been executed by Conrad Kuchler at the Soho Mint, operated by manufacturing firm Boulton and Watt.
A small number of silver impressions were delivered on March 8, 1796, followed by a handful of copper examples a few days later. The intended larger coinage never materialized, however, as Myddelton was eventually sentenced to London's Newgate prison for three and a half years. The few tokens struck became popular among the collectors of the day, and most were preserved in contemporary British cabinets. With only 15 to 25 silver examples thought to survive, these are eagerly sought for their rarity as well as their artistic beauty, and they are often referred to as the most beautiful coin or token related to Colonial America.
We are thrilled to offer an expertly produced Proof-65 (NGC) Myddelton token in silver in lot 2125 of our November 2021 Showcase Auction. Both sides exhibit intricate detail and are warmly toned in mauve-gray and olive patina, with iridescent undertones of cobalt blue, salmon pink and antique gold. Bold reflective qualities in the fields are also appreciable and contrast nicely with the more satiny design elements. This gorgeous specimen will please even the most discerning collector and is traced back to the cabinets of colonial specialists Robert A. Vlack and Donald G. Partrick.
This Proof-65 (NGC) Myddelton token will be offered in lot 2025 of Session 3, the Stack's Bowers Galleries official auction for the Colonial Coin Collectors Club (C4), on Monday, November 22. This session features all manner of Colonial and related coinage, ranging from Massachusetts silver to desirable State coppers and early Washington pieces. Included are several historic cabinets including Fugio coppers from the Pierre Fricke Collection and New Jersey and Connecticut coppers from the Norman G. Peters Collection. Notable rarities are AU-55 (PCGS) examples of 1787 Fugio Newman 10-T and Newman 11-A,  and an incredibly rare 1787 New Jersey Maris 62-r . Also offered is a remarkable selection of pieces from the collection of respected dealer Richard Rossa, formerly of Rossa and Tanenbaum, as well as a newly discovered 1658 Lord Baltimore shilling and a rare 1790 Standish Barry threepence.
The entire Stack's Bowers Galleries November 2021 Auction is available for viewing and bidding at StacksBowers.com. For information about consigning to an upcoming Showcase or monthly online auction call 800-458-4646 or email [email protected].