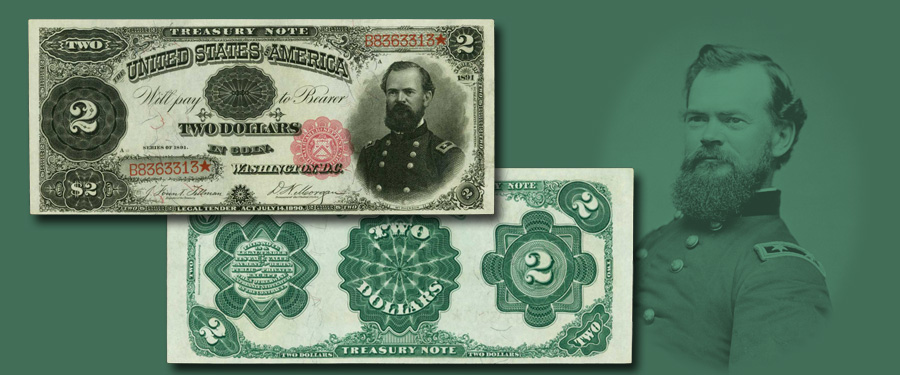 This summer marks the 150th anniversary of the Union Army's Atlanta Campaign that sought to deal a devastating blow to the heart of the Confederacy in Atlanta and surrounding parts of Georgia. One prominent Union general from that military campaign is James Birdseye McPherson whose portrait is found on the $2 Treasury Notes of 1890 and 1891.
McPherson was born near present-day Clyde, Ohio on November 14, 1828. He went on to attend the U.S. Military Academy at West Point where he graduated first in a class that also included future Civil War generals Philip Sheridan and John Schofield for the Union and Confederate General John Bell Hood.
Early on in McPherson's military service he served with the Army Corps of Engineers where he supervised the construction of the defenses on Alcatraz Island in San Francisco. He returned east at the outbreak of the war, first serving on the staff of then Brigadier General Ulysses S. Grant. After the Battle of Shiloh in April of 1862, McPherson was promoted to Brigadier General and then in October to Major General. He assumed command of the XVII Corps of Grant's Army of the Tennessee. In 1863 McPherson took part in the siege of Vicksburg.
In March 1864 McPherson was given command of the Army of the Tennessee when Grant became commander of the entire Union Army and McPherson's old commander Major General William T. Sherman had been given command over all of the armies in the West. In May Sherman began his Atlanta Campaign with McPherson and his Army of the Tennessee at his side.
McPherson and his troops skirmished with Confederate forces at Pumpkinvine Creek, driving them from Dallas, Georgia. Later he and his men had a minor role in the Union defeat at the Battle of Kennesaw Mountain on May 7. From early June to the beginning of July McPherson took part in a series of small battles known as the Battle of Marietta as the Union Army continued to push toward Atlanta.
On July 22 on the outskirts of Atlanta, McPherson's old friend and classmate Lt. General John Bell Hood, now commander of all Confederate forces around Atlanta, learned of the unprotected left flank of McPherson's army and launched an attack. McPherson had been meeting with Sherman expecting that an attack was eminent. Riding back toward his army's position with only a couple members of his staff, McPherson was surprised by members of the 5th Confederate Infantry Regiment. The men order McPherson to halt and surrender, to which he replied by lifting his cap to them and quickly turning his horse in a bid to escape. One member of the 5th Infantry opened fire on the retreating McPherson, killing him instantly. Sherman's offensive on Atlanta finally proved successful and Union troops occupied Atlanta on September 2nd. Hood and his army fled after sustaining heavy loses.
A monument marks the place where McPherson was killed at the intersection of McPherson Avenue and Monument Avenue in East Atlanta. Later McPherson was chosen to appear on the $2 Treasury Notes of 1890 and 1891. Lot #2319 from our August 2014 Official Auction of the ANA World's Fair of Money is a Fr. 357 1891 $2 Treasury Note depicting McPherson. The note is graded Very Choice New 64 PPQ by PCGS and carries an estimate of $3,000 to $4,000. Preview this note along with the rest of our Official Auction of the ANA World's Fair of Money at the Browse Auctions link at www.StacksBowers.com.