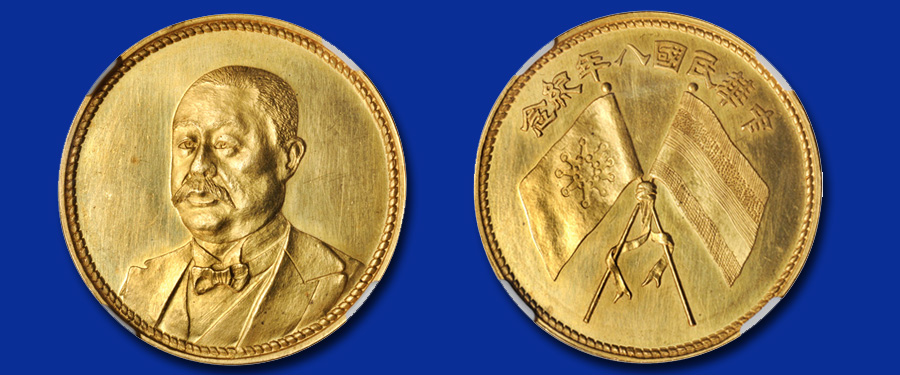 It has been just a few weeks since our April Hong Kong Showcase Auction ended, and already our world numismatic team is eagerly preparing for our next Hong Kong Auction this August! Each week we will highlight an item from the auction and this week we preview a very rare gold medal commemorating Li Yuan Hung, who served as the third president of the Republic of China. Li Yuan Hung first served as vice president to Sun Yat-sen and vice president to Yuan Shih-kai. He was then elected president of the Republic of China after Yuan Shih-kai's death. Nearly five years later, he would return to the office and unsuccessfully attempt to counteract the government corruption of the Warlords Era.
Li Yuan Hung is represented here on a rare commemorative gold medal, the first of this type we have handled. Li Yuan Hung is also represented on Silver Dollar issues (L&M-43 to 46) where he is shown in military uniform and sometimes with a military cap. For this medal he is presented in formal western civilian dress, with no hat. No inscription appears on the obverse. The reverse of the medal depicts the crossed flags of the Republic of China, including the 18-point Wuchang Uprising flag and the "Five-colored Flag" which was designed by Sun Yat-sen to represent the five races of China: Han Chinese, Manchus, Mongols, Chinese Muslims and Tibetans. Above the crossed flags appears the Chinese legend which states: "Commemorating the Eighth Year of the Republic of China". The eighth year of the Republic corresponds to the year 1919, which would be about halfway between the end of his first term in 1917 and the beginning of his second term in 1922. NGC has encapsulated this coin and assigned a grade of Mint State-64. The quality is evident with a particularly high level of detail. This rare medal in such a high grade will certainly demand attention once it reaches the auction block this August in Hong Kong!
Look for this and other Asian numismatic rarities in our August Hong Kong Showcase Auction and Sale. Preview this impressive medal along with the rest of our auction this July and August at the Stack's Bowers and Ponterio office located in Irvine, California. For details please refer to the Events Calendar link at www.StacksBowers.com. To schedule an appointment, please call 800.458.4646. Our Stack's Bowers and Ponterio August Hong Kong Showcase Auction is still open for further consignments of Asian coins, and our 2014 August ANA World's Fair of Money Auction and sale is still taking consignments of world and ancient coins as well. Time is running short, so if you are interested in consigning your coins and paper currency (whether a whole collection or a single rarity) be sure to contact one of our consignment directors.