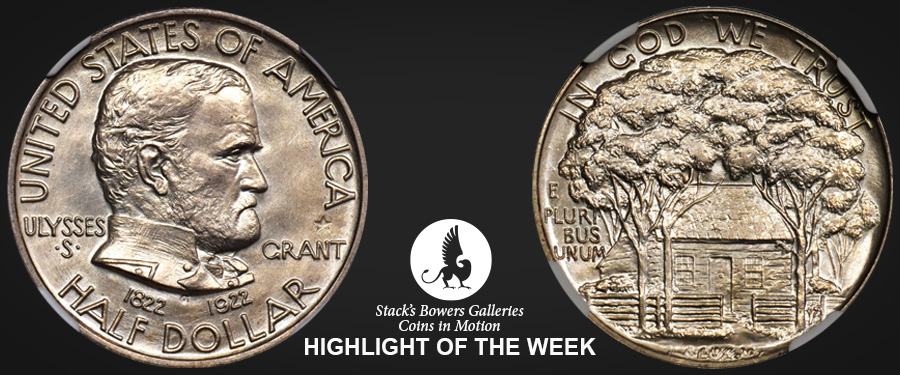 While we could describe this 1922 Grant Memorial, With Star half dollar, the writing from Anthony J. Swiatek describes this coin perfectly. Read here:?
"To Whom It May Concern
"According to the late, famous numismatist Mr. Abe Kosoff – who sold me many US Commemorative rarities over the years – this 1922 Grant Star half dollar was the property of Lt. Governor Hugh L. Nichols. He was once the Supreme Court Justice of Ohio, as well as the Chairman of the Grant Memorial Centenary Association!
"Mr. Kosoff informed me of the fact that this Grant Star he purchased was the second piece struck that the Chairman received!
"Needless to exclaim. I levitated numismatically as I purchased the issue for $35,000.00, back in mid 1981. Also acquired at the same time was a 1907 $20 Saint Gaudens trial piece struck in lead for $40,000.00. The Judd 1778b had a small pinhead size hole in the upper obverse field. Sold such to Norman Stack of Stacks Rare Coin Gallery in 1986, for the same $40,000.00, as I needed funds to apply for acquisition of a 5-piece Pan Pac set.
"In November 2021, I purchased this Grant Star half dollar (that I sold back in 1983) from the same buyer's family. After examining and examining the coin, I could not believe how fantastic it truly is.
"Remember, almost 40 years have passed since it's procurement. Did not fully realize what I held in my hand at the time. Have never seen this outstanding issue with such an amazing strike and appearance.
"Pay attention to the overall reverse intricate striking definitions on the trees, their non-flatness – especially the trunk of the second tree from the left – which always looks flattened! Note the sharpness of the fence, cabin door, its knocker and frame. WOW! Observe the sharpness of strike on Grant and definition over our 18th President's ear, etc.
"I have seen every Grant Star half dollar shown on Stack's Bowers and Heritage's auction sites – including those labeled Specimen and Proof strikings covering a 20 year period. Ditto at the many coin shows I attended for over 50 years. Check it out. Believe you will agree with my assertion that this is a very special coin!
"Numismatically yours,
"(signature)
"Anthony J. Swiatek"
Coins in Motion seeks to enable collectors, bidders, and consignors to accurately appreciate how Stack's Bowers Galleries coins look in hand. Ultra-high resolution animations depict how luster moves over the coin's surfaces, while the rotating motion allows for any possible imperfections to be revealed. Stack's Bowers Galleries is proud to have acquired Coins in Motion. To view our YouTube Playlist dedicated to Coins in Motion, click here. Videos are added weekly. Subscribe to our YouTube Channel for more updates here.