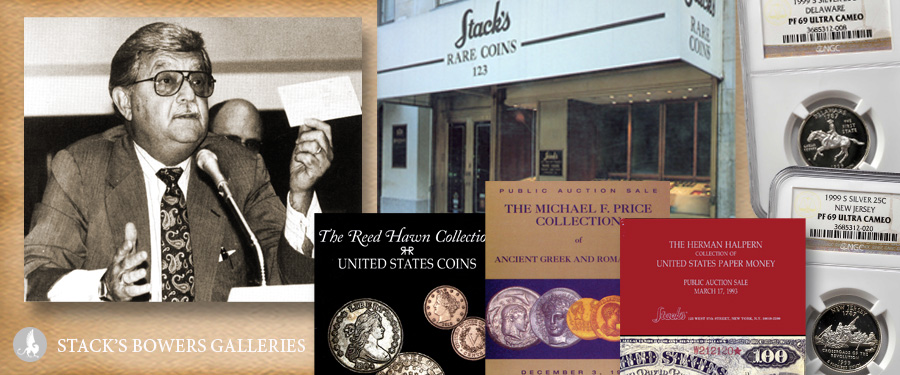 While Harvey Stack passed away on January 3 of this year, we are pleased to continue to offer readers the articles he had already written, so that they can be read and enjoyed as he would have wished.
The year of 1994 provided Stack's with a great selection of auctions, eight public sales, all conducted in New York City. These were made up of two international sales as well as six that featured items from the United States, with specialized collections, most of which had been assembled from the 1950s through the 1980s. The highlight collection was major portions of the renowned James A. Stack Collection of United States Gold, Silver and Copper Coins, as well as an important offering of English gold and silver coins, all in outstanding condition. The James A. Stack, Sr. Collection was started during World War II and then built over several decades with his son and other members of his family. James A. Stack , Jr., took over the management of the collection and sold portions of it in various Stack's sales. While we shared similar Irish heritage, neither James, Sr., nor James Jr. was any relation to our Stack family. But over time they relied on us to help build and enhance the collection and, as with many of our clients, we came to feel like family.
But I am getting ahead of myself, as there were quite a few fine sales that preceded the James A. Stack sale in 1994. The year started off with our January sale of the Huntington, Sun City and the Williams and Poole Collection. Offered was an extensive choice type coin collection together with a variety of pattern coins, all of high quality and for certain series full sets, including original Proof sets from the 19th century. The Sun City Collection had virtually complete sets of gold dollars and 20th century gold and was highlighted by an important offering of United States half eagles, 1795 to 1837, with varieties, a virtually complete group of eagles, 1795 to 1804. This first sale of 1994 had over 2,000 lots and there was great quality among the many popular and rare coins. Our March sale featured an unusual type set of U.S. gold coins, especially rich in high quality pieces, with many additional dates and mints, and including pieces rarely seen at public auction. In total there were over 1,800 lots.
Our May sale brought to the auction block just under 1,000 lots of United States coins in gold, silver and copper. While the cover did not feature name collections, like so many of our sales it offered our clients opportunities to add to their collections across many series and at many different price levels. Our next sale was for the newly formed Spring Metropolitan International Numismatic Convention in June where we were pleased to present 2,314 lots in total, split between United States coins and foreign and ancient coins. Name cabinets included those of Dr. Alfred Globus, Ellis Randels, Alfred Samuel Binder, and the Ford Family Trust. Featured in the catalog were original Proof sets 1876-1915 (almost complete) and an extensive offering of U.S. patterns that included a set of Amazon designs in Gem condition. This sale attracted collectors and dealers from all over the United States and the world who came to New York City to try to acquire some of the rare and unusual items being offered. The convention attendance was one of the largest held that year.
In September we brought to auction a group of important consignments of early American and federal gold and silver coins as well as U.S. paper money. There were specialized collections that complemented each other as well as attracting a wide variety of bidders both in person and by mail and phone. The George Sutcliffe Collection was begun when George's uncle introduced him to collecting small cents at the age of 6. His desire to expand in the hobby grew as he became older and he assembled a comprehensive cabinet of copper, silver and gold U.S. coins in high quality and with numerous rarities. It was a great introduction to the sale in September. Next to be offered was the gold coin collection of Richard and Jean Salisbury. This couple had worked together to build this cabinet, with Jean accompanying Richard to many auctions. I remember one Stack's auction where Jean purchased the rare 1875 Proof $3 piece to give to Richard for his birthday. Besides completing a set of gold dollars, with all dates and mints, they completed a set of $3 gold pieces, highlighted by superb examples of the rare 1854-D, and Proof 1875 and 1876 and including many choice Mint State and Proof coins. This numbered among the finest sets offered at sale for several decades, although it was lacking the unique 1870-S. The couple also amassed full sets of the gold coins of Dahlonega, Charlotte and Carson City, and a good number from Philadelphia and New Orleans. This collection, along with the other consignments to the sale, made an exciting offering to start the fall season and we received a great number of bid sheets as well as people participating in person. But the fall season was about to get even better, as I will describe in my next article.