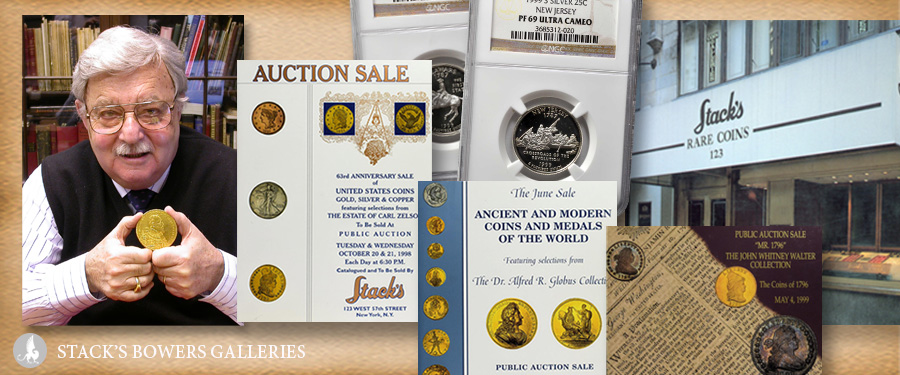 As we entered the last year of the nineteen hundreds, Stack's was still thriving at its landmark address on West 57th Street near Fifth Avenue and Central Park. Our retail shop, with sit down counters and wonderful displays still had its "club house" atmosphere that attracted both the public and seasoned collectors to visit, buy coins, and gather information. It didn't seem to matter what the address was, Stack's Rare Coins managed to keep its welcoming environment, even as the business expanded both as a retail presence and on the auction scene.
During the decades we served the hobby and its collectors we were fortunate to build many of the most important and outstanding collections formed in numismatics, and we were privileged in offering many at public auction or private sale. We were thrilled over the years to have worked with some of the most important collectors in the country, including Louis E. Eliasberg and Josiah K. Lilly, but we were also proud of the service that we provided to collectors at every level and no matter what their budget.
Members of the firm were active in national numismatic affairs and always strove to improve and assist the hobby to grow. As I noted earlier, I was proud to have played a role as an advocate for numismatics in dealings with the government, both in resisting the unfair gold import restrictions and in working toward the enactment of the Hobby Protection Act. I worked with others in conjunction with the American Numismatic Association to introduce grading standards and served on the board and as president of the Professional Numismatists Guild.
Over more than 65 years, the Stack family had been dedicated to the firm, from my father, Morton and his brother Joseph (the founders of Stack's Rare Coins), to the next generation of my cousins Ben and Norman and myself. As 1999 began, the family legacy had been passed to me and my son, Larry, and we worked hard to be sure it continued into the next century.
1999 would mark the first year of the State Commemorative Quarter program with five new quarter designs being issued at face value. These featured the states of Delaware, Pennsylvania, New Jersey, Georgia and Connecticut, the first five states to join the United States. I was very proud of my role in these new issues, and having been instrumental in creating a collectible that everyone could find in their daily change.
All of us at Stack's over the years were honored that as professional numismatists we could contribute to the future growth of the hobby that our family had been so personally involved with for so many years.