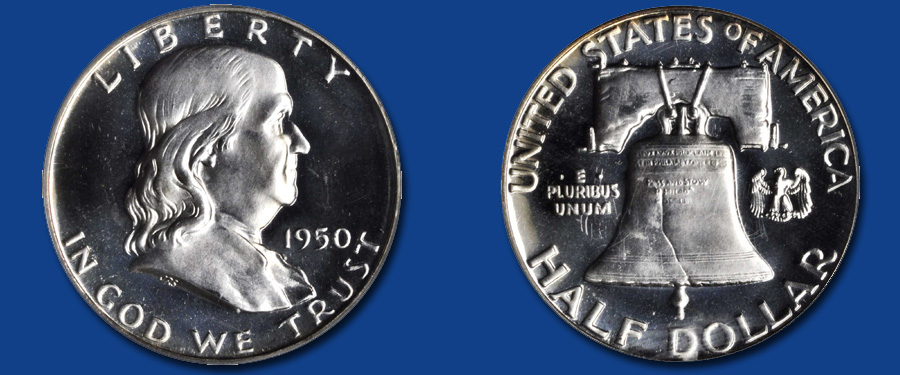 The Proof 1950 Franklin half dollar represents a significant challenge for advanced specialists of the series. This issue marks the first time the Mint had struck Proof half dollars since 1942, a mintage of 51,386, which would remain the smallest Proof mintage of the series. Many problems plagued the production of Proof halves that year, resulting in overall low quality. Dies were employed long past their ideal striking capacity and many coins display shallow mirrors, incomplete frosting, and soft definition.  Additionally, storage for extended periods in Mint-issued packaging often resulted in stained or damaged surfaces.
As a result, well struck, high-grade Proof 1950 Franklin half dollar are remarkably elusive. The example featured in lot 91190 of our December Collectors Choice Online auction is an incredible rarity among survivors, certified Proof-67+ Cameo (PCGS) and approved by CAC.  It is tied with just two other examples as the finest certified in this category.  Series specialist Rick Tomaska calls examples in this grade "excessively rare" and notes that finding one with superior surfaces "has proven to be almost an impossibility." Serious collectors will surely realize the immense opportunity offered by this coin.
Our December 2018 Collectors Choice Online Auction is available for viewing and pre-bidding on our website and will open for live bidding on Wednesday, December 19th. If you would like to consign your collection to a future Collectors Choice Online Auction call 800-458-4646 or e-mail [email protected] to speak to a numismatic expert today.
​