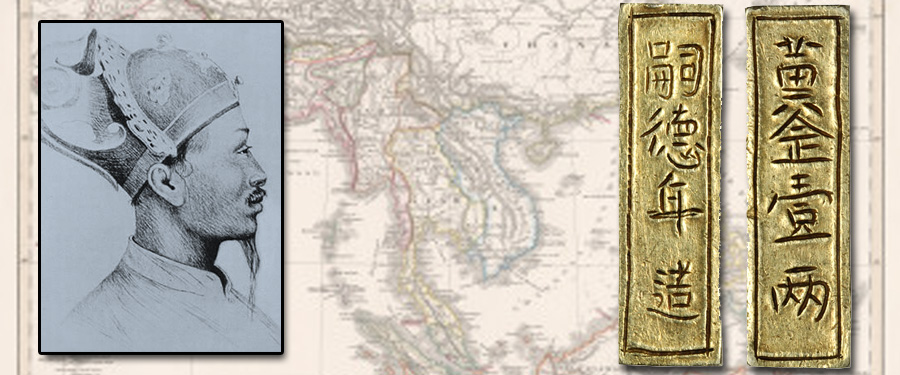 ​This
week's preview from our August 14-16 Hong Kong Auction (to be held at the Mira
Hotel in Hong Kong) is an extremely rare hand-inscribed Annamese Lang gold
currency bar of Emperor Tu Duc. Both the obverse and reverse are hand
inscribed with Chinese characters "Tu Duc Nien Tao" within rectangle
border on the obverse and "Hoang Kim Nhat Lang" within rectangle
border on the reverse. The edge has a vine or floral design, square at top and
circle at bottom all hand inscribed. Much care was taken in producing this type;
as each was engraved by hand, each is unique in a sense. These hand-inscribed
types are unlike the basic types, which had the borders in relief and used the
same dies as the silver issues. We are aware of only two other examples of the hand-inscribed
types and each is of a different ruler.
Born
22 September 1829 as Prince Nguyen Phuc Hong Nham, Tu Duc succeeded his father
Emperor Theiu Tri who died 4 November 1847. His father favored his younger son,
Tu Duc, who had steadfast Confucian beliefs and was opposed to foreigners and
innovations, and passed over his more moderate eldest son, Hong Bao. Though Tu
Doc reigned for more than 35 years, his rule was not an easy one. He struggled
with familial conflict, religious suppression, European conquest and hundreds
of rebellions. Despite his enormous harem, he had no children due to a case of
smallpox that left him impotent. He is considered the last independent ruling
Emperor of Annam (Vietnam). According to legend, with his dying breath he
cursed the French. After his death his adopted son Duc Duc became emperor, but
was deposed by court officials after only three days on the throne.
The
ingot offered in our August 2017 Hong Kong auction is lightly toned and
attractive with no major defects. It is historically significant, highly
important, of the utmost rarity, and sure to excite even the most advanced
collector of Annamese items.

We
are no longer accepting consignments for our August Hong Kong auction. We are
however currently taking consignments of world and ancient coins and world
paper money for our October Collectors Choice Online Auction (CCO), our January
2018 New York International Numismatic Convention (NYINC) Auction, and our
April 2018 Hong Kong Showcase Auction. If you are interested in consigning your
coins and paper currency (whether a whole collection or a single rarity) be
sure to contact one of our consignment directors.