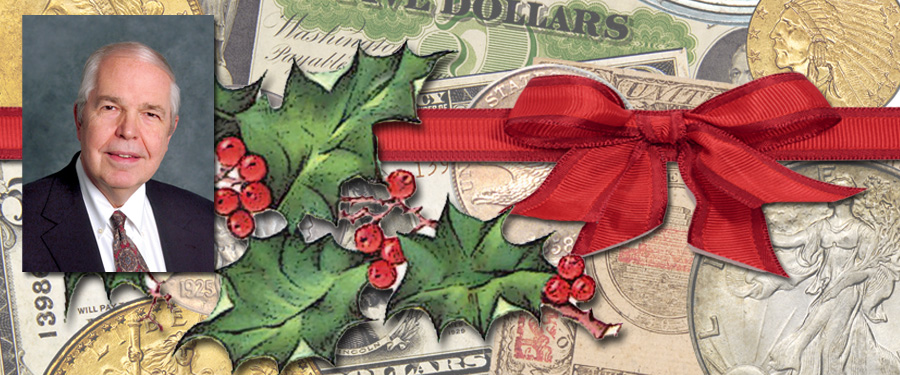 The following "Holiday Coin Quiz" was written by John Kraljevich and published in Rare Coin Review #144, our November/December issue for 2001.
There is an old saying in the hobby: "There is no Santa Claus in numismatics." While the sentiment is accurate, John Muscalus actually wrote an entire monograph on the appearance of old St. Nick on obsolete bank notes in 1959! In that vein, here is a special holiday edition of the Coin Quiz. Some of these questions are pretty hard, so buy yourself an extra gift if you get more than seven correct.
1.  A banknote from which of the following National banks would be most difficult (or maybe impossible) to include in a themed collection?
a.       Lehigh Valley National Bank of Bethlehem (PA)
b.      Citizens National Bank of Holidaysburg (PA)
c.       First National Bank of Holly (CO)
d.      First National Bank of Santa Claus (IN)
2.  According to Breen, Mint Director Robert Maskell Patterson offered what famous engraver the position of chief engraver on Christmas Day, 1849?
a.       James Longacre
b.      Charles Cushing Wright
c.       Christian Gobrecht
d.      Edward Hulseman
3.  A very rare bronze coin of Mattathias Antigonus depicts what object that today symbolize the Hanukkah holiday?
a.       a dreidel
b.      a menorah
c.       gelt
d.      a star of David
4.  The designer of the 1920 and 1921 Pilgrim commemorative half dollar never designed another coin. What was his name?
a.       Cyrus Dallin
b.      Charles Keck
c.       Trygve Rovelstad
d.      Virgil Cantini
5.  The Christmas season often brought numismatists to banks in large numbers in the early to mid 1960s. What did they hope to get?
a.       Proof sets
b.      Half eagles, once popular stocking stuffers
c.       Coins from the latest bags of silver dollars released from the Treasury Department
d.      The next year's Redbook as a gift
6.  Which famed numismatist staged his first auction on Christmas Day, 1882?
a.       Henry Chapman
b.      Ed Frossard
c.       Harlan P. Smith
d.      Lyman Low
7.  In many recent years (though not 2001), what denomination was not coined until December?
a.       nickels
b.      dimes
c.       quarters
d.      half dollars
8.  In Dickens' A Christmas Carol, what has Christmas never put in Scrooge's pocket?
a.       a solitary sovereign
b.      a scrap of gold or silver
c.       a red penny
d.      pudding
9.  What Mint employee was hired on Christmas Eve, 1792?
a.       Adam Eckfeldt, mechanic
b.      Joseph Wright, engraver
c.       Jacob Bay, typefounder
d.      David Rittenhouse, director
10.  The discovery of what overdate was announced on the cover of the Christmas issue of Coin World in 1978?
a.       1943/2 nickel
b.      1888/7 cent
c.       1853/2 $20
d.      1799/8 dollar
Answers: 1-d, 2-b, 3-b, 4-a, 5-c, 6-d, 7-d, 8-b, 9-c, 10-a