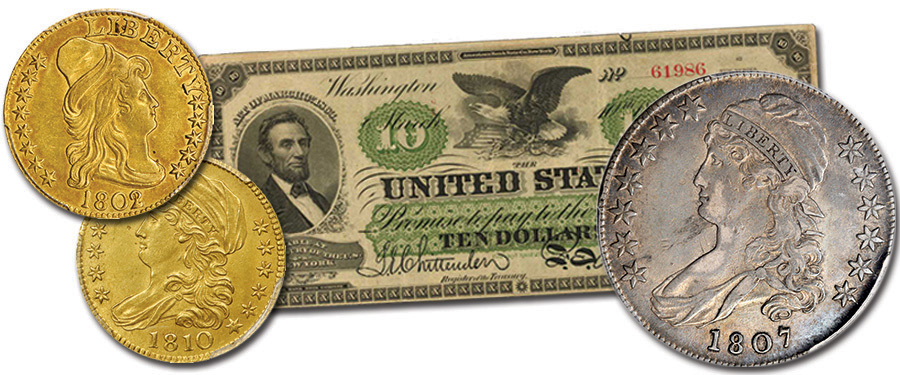 Did you know Stack's Bowers
Galleries is featuring the Heintzelman Collection as part of our official
auction of the Whitman Coin & Collectibles Winter Expo?
The Heintzelman Collection was
compiled and curated by generations of the Heintzelman, Huber, and Henry
families, who settled in south central Pennsylvania before the American
Revolution. One notable ancestor was Major General Samuel Peter Heintzelman of
Manheim, Pennsylvania, who served in the Mexican-American War and in the Union
Army during the Civil War.
The collection focused on mainly
United States coins and paper money, as well as foreign coins collected during
times of world war and peace. Parts of the collection were stored inside the
pages of a datebook from 1896 and in envelopes from the Annville, Pennsylvania
bank where Elmer Henry worked in the late 1800s and early 1900s. Over the
decades it was handed down through generations, before eventually passing to
Elmer's grandson, C.I.A. officer H. Henry Heintzelman, who passed away in 1999.
It is now being offered publicly for the first time.
Significant highlights from the
Heintzelman Collection include a Choice AU 1802/1 Capped Bust Right half eagle,
a Mint State 1810 Capped Bust Left half eagle, and a pair of important $10
Legal Tender notes from the Civil War-era. This fresh, new-to-the-market
offering will attract considerable excitement from collectors across various
categories of numismatics.
The
auction will take place, November 13-16, 2019 in Baltimore, Maryland. Click
here to view the full auction schedule or to request your copy of a catalog
email [email protected].