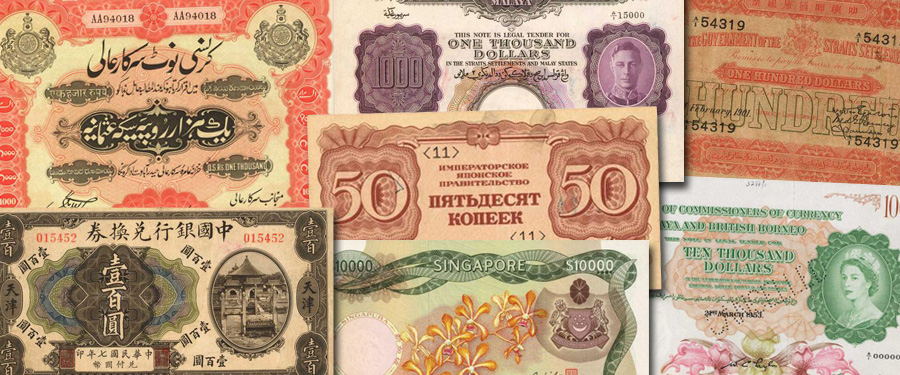 ​This year's April Hong Kong
Sale has shaped up to be an eclectic sale featuring never before offered
items, along with extensive collections from Tibet, the People's Republic of
China, and some other thoroughly collected areas. We pride ourselves in
consistently presenting rare or never before offered material. 


The People's Republic of China
banknotes are challenging to find in high quality, and have also been extensively
counterfeited. It is uncommon to find issued PRC notes certified by grading
services for this reason. We are offering an extensive collection of PRC
notes in this sale including but not limited to both Pick 858Aa and Pick 858a
10,000 Yuan notes from 1951. Also offered in this collection
is Pick 857Ba, the 5,000 Yuan from 1951 found here in very pleasing
extra fine condition.
Another prestigious collection we are
offering is the Tibetan Banknote Collection belonging to Alexander
Boris Lissanevitch. Regarded by many as the ultimate Tibetan collector, this
gentleman's cabinet features an exceptional assortment of rare notes, and others
with rare seals, blocks, errors and color varieties. This collection even offers
a few extremely rare bundles with the original string tying the notes at their
right side.


Other highlights include Pick 13, a 100
Dollar note from the Straits Settlements; Pick 2s, a 1953 5 Dollar Specimen
from Malaya and British Borneo, and four separate 1901-02 Chinese Specimen and
Specimen Proofs from the Banque De L'Indo-Chine.
You can register for bidding and review
the sale on our website. For questions regarding any of the lots, or to inquire
about consigning to our future sales, please contact Aris at [email protected].