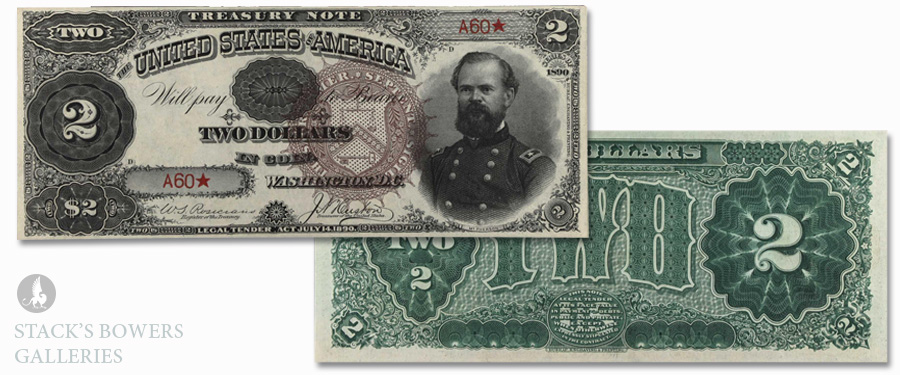 Our Summer Global Showcase Auction is available at StacksBowers.com for viewing and bidding. Our live session of U.S. paper money will take place on Wednesday, August 24, 2022, and feature 659 lots. One impressive note is lot 20211, a Fr. 353 1890 $2 Treasury Note in PMG Choice Uncirculated 64 EPQ.
It has been some time since we have offered an ornate back Deuce at this grade level, so this example is sure to turn a few heads as it crosses the auction block. The low serial number A60 is boldly printed in deep red ink at lower left and top right. The engraved design elements display striking detail, with the ornately printed "Fancy Back" flawlessly executed in brilliant green.
Depicted at right is a portrait of the "Hero of Vicksburg," General James McPherson, which was engraved by Charles Burt. McPherson, killed in the July 1864 Battle of Atlanta, served as chief engineer under General U.S. Grant in 1862. Later he served in the Vicksburg Campaign (1862-1863) and the Battle of Shiloh (1864), after which he was given command of the Army of the Tennessee. His death is notable in more than one respect. The army he faced in Atlanta was led by Confederate General John Bell Hood, who had been McPherson's classmate at West Point, illustrating how close associates and even brothers found themselves opposing each other on the field of battle. Additionally he was the second highest ranking Union officer killed in the war.
We are currently taking consignments for our November Official Auction of the Whitman Winter Expo as well as our monthly Collectors Choice auctions. To consign your U.S. paper money and world paper money to a future sale, contact a consignment specialist at 800-458-4646 or visit StacksBowers.com. For more information on viewing lots or for assistance in registering to bid, email your inquiry to: [email protected]​.