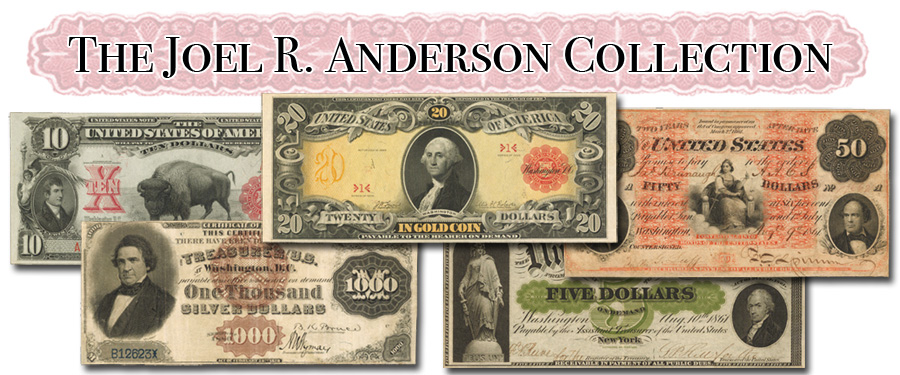 Welcome to my first weekly blog regarding our upcoming sale of the Joel R. Anderson Collection Part II. As a starter (I will be more specific next week), the following is from the introduction to the catalog.
Part II of the
JOEL R. ANDERSON COLLECTION
Of United States Paper Money
Overview
Welcome to the second offering from the most extensive, most rarity-laden collection of paper money by design types ever formed or presented at auction. The first part, sold by us in March, is now an indelible part of numismatic history.
 This collection is the result of many years of careful study, connoisseurship, and patience by Joel R. Anderson. As have the majority of those who have formed great collections of various numismatic specialties, Joel began his interest as a teenager.
As was related in the first catalog, by 1963, working with his older brother Charles, Joel was quite versed in the basics. In that year in Washington, DC, long-sealed vaults in the Treasury Building were opened. Revealed were thousands of 1,000-coin bags of Morgan and Peace silver dollars dating back to 1878, including key issues and rarities, many from the Carson City Mint. The Andersons were on hand and purchased a large quantity for face value, as did many other collectors and dealers. By March 1965 the coins had been dispersed, except for some Carson City coins held back for later sales.
Behind the scenes the Andersons continued their involvement, eventually adding a line of coin supplies to their other businesses. The Anderson Companies, based in Florence, Alabama, became important in many fields ranging from entertainment to retailing, including as the main supplier of goods to WalMart during its growth era under Sam Walton. In 2003 Whitman Publishing Company was purchased from St. Martin's Press. The rest is history. Dynamics came to the forefront, and since that time Whitman has issued over 300 different books on a variety of numismatic subjects. Among other distinctions, it is the official book supplier to members of the American Numismatic Association.
In the meantime, Joel pursued his varied interests in numismatics, forming a great collection of coins by design types and entering the field of paper money, a field that has continued to be a specialty for a long time. He has worked with leading dealers in the field, has attended conventions, and has become deeply involved in other ways. In the publishing realm, his firm greatly supports the numismatic hobby by producing many coin reference books and by hosting the popular Whitman Coin & Collectibles Expos.
In forming his collection of large-size federal currency Joel Anderson had as an objective obtaining the finest-condition example of every major large-size federal paper money design from the first widely circulated issues of 1861 to the 1920s. In addition, within a given type, major changes of certain other features (such as Treasury Seals) were collected.
By careful study and by reaching to acquire rarities when they became available, he set many price records at auction, including the first million-dollar note. In numismatics, yesterday's records have a way of becoming today's bargains over a long period of years, and since then other notes have crossed that barrier.
Each note has been kept with care over the years, and PCGS Currency has been tapped to certify each piece, providing a basis that is understandable not only to long-term specialists, but to newcomers as well.
Q. David Bowers created narrative and descriptions in the first catalog and in the present one, following a framework laid out by Peter Treglia and other experts, in consultation with Joel. As in our March 2018 offering of Part I, this sale features diverse notes of various series, from popular and affordable (as many types are easily enough obtained) to incredible rarities.
Part II includes many landmarks, among which are rarest-of-the-rare Interest-Bearing Notes, classic Demand Note rarities, unprecedented runs of Silver Certificates of Deposit of 1878 and 1880, and National Gold Bank Notes, Series of 1870.
Dave, in harness with other experts on the Stack's Bowers Galleries staff, has supplied historical and other background information from his past studies for Whitman books and from his extensive research files, all in a readable manner we hope you will find to be both informative and interesting.