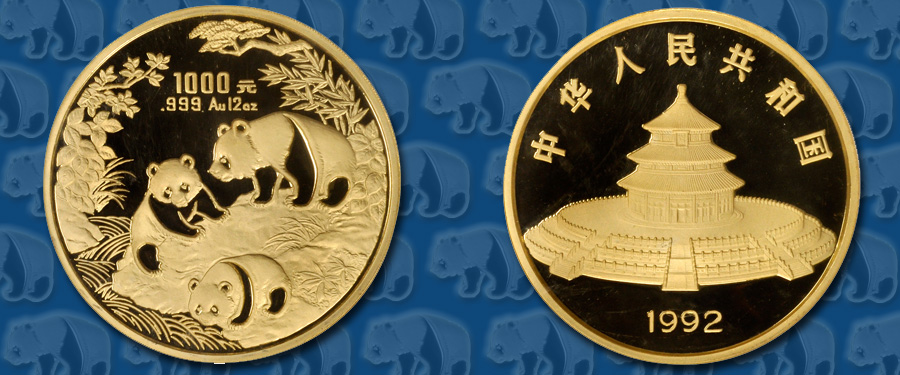 ​The Panda Series of modern Chinese coins has seen over three decades of
numismatic success, and this August in their Hong Kong Auction, Stack's Bowers
and Ponterio is proud to offer multiple fantastic coins from this Series. One
example is a rare low mintage twelve-ounce gold issue from 1992, serial #76
from a mintage of just 99 pieces. The obverse design features an idyllic scene
of three pandas idling by a stream, with foliage and bamboo stalks surrounding
the bears. The denomination and metallic content appear in the upper field:
"1000 Yuan / .999 Au 12 oz". The reverse design includes the upper Chinese
inscription stating: "People's Republic of China," and below the design the
date of issue, 1992. Between these legends is a detailed and magnificent view
of the Temple of Heaven. Inside is the "Hall of Prayer for Good Harvests" which
is aptly named, as the Ming and Qing dynasty emperors would enter this building
at the winter solstice to beseech the gods for a bountiful harvest. This large
Panda is sure to draw considerable attention as it crosses the auction block in
Hong Kong.
While we are no longer accepting consignments for our August 2017 Hong
Kong Showcase Auction, we are accepting consignments of Chinese and other Asian
coins and currency for our April 2018 Hong Kong Showcase Auction. In addition,
we are currently taking consignments of world and ancient coins and world paper
money for our October 2017 Collectors Choice Online Auction and the January
2018 New York International Auction. Time is running short, so if you are interested
in consigning your coins and paper currency (whether a whole collection or a
single rarity) be sure to contact one of our consignment directors.