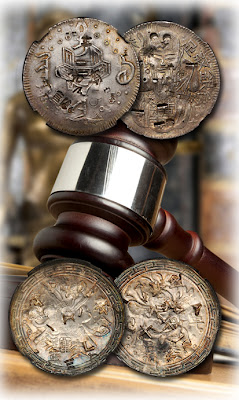 Stack's Bowers and Ponterio is proud to present The General M.S. Newton/Kenneth Bressett Collection, a highlight of our upcoming April 2012 Hong Kong Auction to be held at The Mira Hong Kong Hotel, from April 1 through April 4th. Check back on our website later on this week to view the online auction catalogue. To request your copy of the catalogue please give us a call at 800-458-4646 and ask for the Auction Services department.
A RARE TAIWAN "OLD MAN DOLLAR" THE FIRST DOLLAR OF CHINA
China
Taiwan.
"Old Man" Dollar
ND (1838-1850).
CHINA. Taiwan. "Old Man" Dollar, ND (1838-1850). NGC AU Details–Chop Marked. L&M-316; K-1; C #25-3; Chang Foundation-pg. 42#15; Wenchao-pg. 167#170 (rarity three stars). Initially designed as a form of military payment, the Taiwan Dollar quickly gained the approval of the people and grew in popularity. This was primarily due to its high silver content, approximately 98% fine. At this time, the Spanish 8 Reales were the most widely accepted coin in China, being 0.903, just over 90% fine. The obverse depicts the god of longevity with character that signify "Seven Two by the Treasury Scales". This represents the first depiction of what later became the standard denomination for dollars in China, "7 Mace 2 Candareens". Some light chop marks as well as two small rectangular stamps on the reverse which are official stamps. It is normal for this type to be found in average to low condition, often heavily chop marked. This type is considered to be one of the first dollars of China. RARE, especially in this state of preservation.
NGC AU Details-Chop Marked.
Est. $10,000.00-$15,000.00
Ex: Newton / Bressett Collection
VERY RARE BI PAO MILITARY RATION DOLLAR
This issue was struck for a very brief period in 1853 during an uprising that broke out in Fung Shan Taiwan. The uprising was led by Li Shek and Lin Kung who were quickly defeated. Soon after Lin Kung and his followers retreated to Shui Dai Liao where he was captured and executed. These types were issued as a form of military payment to fund soldiers involved in putting down the uprising. Of the two main types, this is by far the rarest. This second type features crossed "Sumi Calligraphy Brushes" in place of the crossed lotus flowers normally found on these issues. The central characters also differ, roughly translating as "Military Soldier's pay" as opposed to "Government repository, Soldier's pay and provisions".
Catalog description is as follows:
China
Taiwan.
Bi Pao Ration "Sumi Calligraphy Brushes" Dollar (6 Mace 8 Candareens).
ND (1853).
CHINA. Taiwan. Bi Pao Ration "Sumi Calligraphy Brushes" Dollar (6 Mace 8 Candareens), ND (1853). NGC XF Details–Chop Marked. L&M-325; Kann-4; C #25-5; Chang Foundation-Unlisted type; Wenchao-pg. 175#183 (rarity three stars). The Taiwan Treasury supplied the silver to produce this issue in order to pay for military rations and soldiers. These were issued during a period of uprising in 1853, which lasted several months. This issue was struck in the city of Taiwan, however once the uprising was put to an end, minting of this coinage ceased. Although mintages for this type are unknown, it is clear they must have been very small. Normally, this type is found in average to low condition, often heavily chop marked. This coin is attractively toned, well struck on a broad planchet, with only a moderate number of chop marks. Much rarer than the previous type of L&M-323 as it features crossed Sumi calligraphy brushes in place of the normal crossed lotus flowers.
NGC XF Details-Chop Marked.
Est. $15,000.00-$20,000.00
The General M. S. Newton/Kenneth Bressett Collection of Chinese Silver Dollars
United States Marine Corps General Miles Stanley Newton loved his hobby of collecting coins. His goal was to acquire a choice specimen of every coin listed in the Guide Book of United States Coins. It was an objective nearly completed before his untimely death in 1970. In addition to that ambitious aim he also turned his attention to saving coins of the many countries in which he served while in the Marine Corps.
"Stan" Newton, as he was known to his many friends, was born in 1903 in Brattleboro, Vermont, and began collecting at an early age. His education, marriage, and time in the service never stood in the way of the hobby he termed a source of pleasure, savings and a family investment. As an experienced numismatist, Newton was never too busy to help other collectors and he was a member of many coin clubs where he assumed an active role. He was known for his soft-spoken manner and modesty. He gladly assisted youngsters and beginners with advice or support, and often sold coins to them at prices well below their true value.
The United States portion of the General's vast collection was sold at public auction by Rarcoa at the 1970 American Numismatic Association convention in St. Louis, Mo. The amazing scope and quality of the coins in that portion of his collection was a tribute to his perseverance and dedication to acquiring nearly every variety and date of all gold, silver, nickel and copper coins.
While serving in China in the 1930s Newton had an opportunity to select choice silver dollars from local sources. With his keen eye for quality he was able to assemble the representative group of pieces that are now being offered in this auction sale. When his collection was dispersed in 1970 the China dollars were acquired as a group by former ANA President Kenneth Bressett, and have been held intact since that time with a few carefully selected pieces added to the collection. The majority of these coins have been preserved together for the past 70 years by the two owners.
Kenneth Bressett has actively promoted the study and hobby of numismatics for more than 50 years. His published works on the subject cover a wide range of topics and extend from short articles to standard reference books on such diverse topics as ancient coins, paper money, English and United States coins.
Throughout his career he has worked as an author, editor and publisher of books and products for coin collectors. He has also taught the subject to hundreds of students through courses at Colorado College and other places. From 1983 to 1988 he served the American Numismatic Association as Director of Coin Authentication and Educational Programs. Subsequently he served on the ANA Board of Governors, and as Vice President and President.
Bressett was appointed to the U.S. Assay Commission in 1966 by President Lyndon Johnson, and in 1996 was made a member of the Citizens Commemorative Coin Advisory Committee. He has received numerous awards in recognition of his service and dedication to numismatics, including election to the National Numismatic Hall of Fame, The American Numismatic Association Medal of Merit, and the Farran Zerbe award.