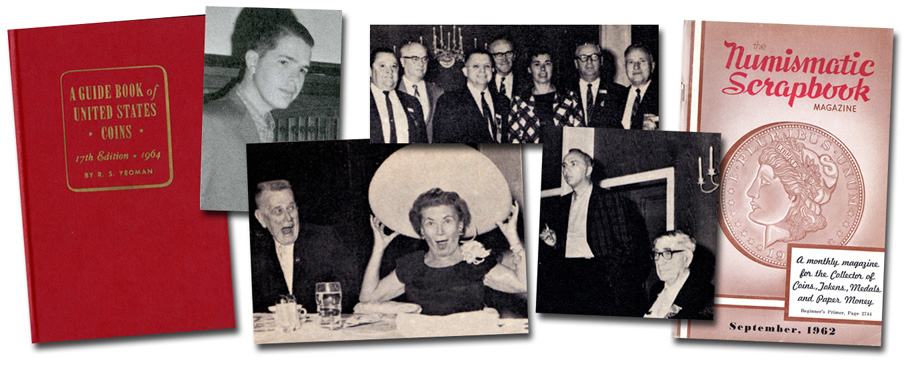 What to say in this week's email message?
The answer popped up on my screen a few minutes ago when "Bart," a long-time collector in Florida wrote to say that he had just finished reading through issues of The Numismatic Scrapbook Magazine, published in the 1960s.
"It was a nice stroll down memory lane," he wrote. "The magazine of course speaks of another time when magazines were a real driver in the coin market. The 60s were busy for you as evidenced by your professional branching out into different venues. The articles were 'pretty darn good" considered the paucity of information as compared to today. I loved the ads and could only think what it must have been like when the postman delivered the mail full of those mail bids and dealers had to sort through it all. A very much different time than today.
"The 1960s photos also showed everyone pretty much dressed up in suit and tie–even in humid Florida. My recollections (as a teenager) from attending a meeting or two of the old Fort Lauderdale Coin Club circa 1959 was folks wearing 'Cubana Shirts' which was considered dressed up then in Florida.
"I sort of like today's numismatic world where I can actually view coins on line but another part of me longs for the good old days and the excitement of receiving my coins unseen through the mail."
The "good old days" are fun to contemplate and I think of them often. Usually the highlights come to mind, but there were also lowlights. There was no grading system that was universally accepted. Counterfeits and altered coins abounded, even at leading conventions. The Professional Numismatists Guild, now wide open to qualified dealers, was more or less a very private club (when I joined, I was the youngest member ever to be invited).
There were, of course, no personal computers, no Internet, no Iphones, etc. Although Coin World had its weekly "Trends" column, the Guide Book of United States Coins was the main source for pricing. This came out in the summer of every year, at which time most dealers marked up their inventory. Prices generally went up, hardly ever down, until 1965 when a book that started in the spring of 1960 ended quickly.
Things were a bit more formal then. Yes, dealers typically wore suits and ties, ladies in nice dresses. T-shirts and blue jeans were hardly ever seen at coin auctions or bourse floors.
There were a lot of nice things back then, but I like to think that today in 2013 the wide world of coin collecting is even better.