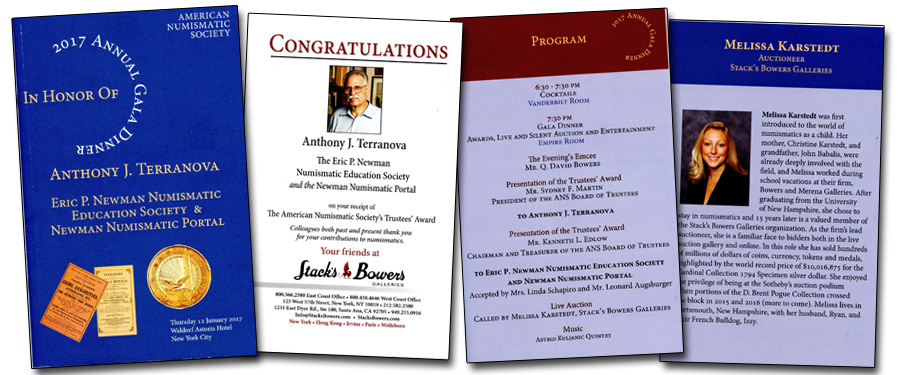 ​Once a year the American
Numismatic Society holds a special event, a Gala at the Waldorf-Astoria Hotel,
to honor people who have made important contributions to numismatics.


This year the honoree was
Anthony J. Terranova, plus honors to the Eric P. Newman Numismatic Society and
the Newman Numismatic Portal.
"Tony" Terranova started
in the rare coin business as a teenager in 1974, which, coincidentally, is the
same time that D. Brent Pogue began collecting. Obviously, this was a very
special year!


Before long Tony was a
"regular" at our auction sales and an almost weekly visitor to our gallery at
123 West 57th Street, not far from his home. As the years slipped by, Tony
built many friendships among collectors, dealers, and others and, along the
way, handled many great rarities.
He has always shared his
deep knowledge, often without any financial reward. If I have a question about
the rarity of a certain colonial coin, Betts medal, or other obscure early
American item, I often turn to Tony. On behalf of the entire Stack's Bowers
Galleries organization I wish him many years of continued success.


On Thursday night,
January 12, the grand ballroom of the Waldorf-Astoria was filled with 170
guests who came to honor his accomplishments. Dave Bowers was emcee for the
evening and Melissa Karstedt was the auctioneer. The presentations and awards,
the fine dinner, the tributes expressed by those who came to the podium, the
banquet dinner, and the orchestra will be long remembered by those who were
there.
It is with a bit of
sadness that we all know that the Waldorf is going to close down in April, to
be remodeled mainly into condos, but with some guest facilities. For many years
it has hosted the ANS Gala. Before then there were other venues. I remember the
Explorers Club one year and the Frick Museum the next. Wherever it will be in
2018 will certainly be somewhere special.


In closing I express my
appreciation to Dr. Ute Wartenberg-Kagan and the ANS staff for creating such a
great event. I am deeply honored to have been a part of it.